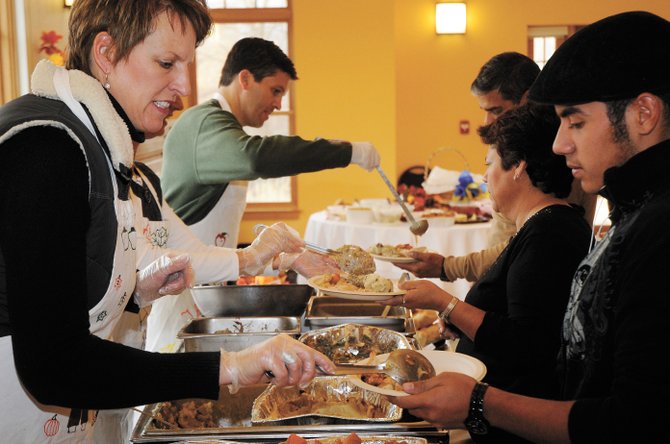 Food donations still sought for annual Thanksgiving dinner
Thursday, November 19, 2009
Needed donations
Whole, cooked turkeys; mashed potatoes; sweet potatoes; green beans; desserts; and rolls. All food should be prepared. Call the United Way to sign up to bring a dish or for more details.
If you go
What: Routt County United Way Community Thanksgiving Dinner
When: 1 to 5 p.m. Nov. 26
Where: Steamboat Springs Community Center
Cost: Free
Contact: Call Routt County United Way at 970-879-5605
Steamboat Springs — The annual Routt County United Way Community Thanksgiving Dinner is a great way for people in the community to come together to enjoy a hot plate of food and friendly company, but its success relies on volunteers who staff the event and provide the prepared, donated food.
Volunteer support for this year's event already has been so strong that no more workers are needed for the Thanksgiving Day dinner at the Steamboat Springs Community Center. But event organizers say they still need food donations.
"We carved up 40 turkeys last year, and right now we only have 13," said Kelly Stanford, executive director of Routt County United Way. "We still need 20 to 30 turkeys."
Prepared green beans, mashed potatoes, sweet potatoes, rolls and desserts also are needed to make the event a success.
About 500 people attended the dinner last year, and Stanford anticipates attendance to be even higher this year because of the state of the economy.
Stanford noted that the dinner is unique from other events because it provides the opportunity for people from all sectors of the community to come together and have fun.

Among the crowd at the community center last year were people vacationing in the valley, young adults in town to work at the ski resort, families in need, and tired and hungry skiers and riders coming down from the slopes.
"It is truly a community dinner, not just limited to those who need a place to go on Thanksgiving," said Lou Dolman, past president of the United Way's board of directors. "A lot of families attend and bring their children or grandchildren to introduce them to community volunteering. We have restaurant owners and workers who help volunteer in the kitchen. The Girl and Boy Scouts help to make decorations, and many people in the community donate food."
Two such volunteers are Rebecca and Marco Pauvert, owners of the Epicurean Café, who help with the technical aspects of preparing food. Rebecca Pauvert started volunteering at the event six years ago while working as the head chef of Hazie's and has returned to volunteer each year because of the fun, community atmosphere.
"It is just so much fun. People really get into cooking food and dropping it off," she said. "I love seeing everyone, and there are so many volunteers. I get to see business owners, my customers, my friends; it is really a whole spectrum of the community, which is really nice."
Rebecca Pauvert is responsible for reheating food and preparing it to be served, and Marco Pauvert, a master butcher, carves the turkeys.
Anyone interested in donating food can call the Routt County United Way directly at 970-879-5605.
All donated food must be prepared, brought in disposable containers and able to feed 8 to 10 people.