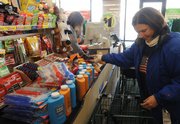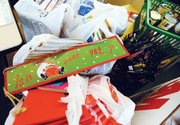 To help
Support the Troops organizers Marci Valicenti, Molly Hibbard and Lynne McNasby said there are multiple ways to contribute to care packages that will be sent to troops overseas for the holidays. Options include:
■ Drop off items, donate
People can bring monetary donations or nonperishable, lightweight and light-hearted items — including food, hygiene products, holiday decorations, games and more — to Hibbard's office at Prudential Steamboat Realty in Marketplace Plaza; Valicenti's office at High Mountain Sotheby's International Realty, at 708 Lincoln Ave.; or McNasby's office at MDM Group Associates Inc., in Copper Ridge Business Park near FedEx.
■ Sign up a soldier
If you would like to add a soldier's address to the care package list, contact Valicenti at 846-9224 or marci.valicenti@s...; contact Hibbard at 846-8536, 879-8100 or mollyh2@earthlink...; or e-mail McNasby at lmcnasby@mdmgroup...
■ Online giving
Online, visit the Yampa Valley Community Foundation at: http://yvcf.org. Click here to fill out the donation form. When selecting the Local Nonprofit Fund to donate to, select "Support the Troops."
Steamboat Springs — Wheeling a loaded shopping cart through the Dollar Tree store Sunday, Marci Valicenti said support has shrunk in recent years for a local effort to send care packages to troops overseas.
Support the Troops, which operates under the financial umbrella of the nonprofit Yampa Valley Community Foundation, collects items including food, hygiene products, games and more to send to troops with local roots — and their entire units — serving in Iraq and Afghanistan. Valicenti said the group began its efforts in 2003 and collected about $3,000 in financial and gift donations each of the first two years. Support the Troops used to send packages not only for the Christmas holiday season, but also for Memorial Day and possibly a third holiday each year.
That's not the case anymore.
"It's really, really cut back over time," Valicenti said about contributions to the group. She gave an opinion about American sentiment as a possible reason for the drop-off.
"People are getting tired of the war," she said.
Valicenti shopped Sunday with Molly Hibbard and Lynne McNasby, also members of Support the Troops. Hibbard has two sons who are active duty: Michael Wesley Mottlau, who Hibbard said is serving with the U.S. Army's 82nd Airborne Division and is on the border of Afghanistan and Pakistan; and Timothy Mottlau, who she said is an officer with the U.S. Navy and based in Norfolk, Va. McNasby said her son Dan McNasby served in Iraq in 2004 and 2005 as a member of California's National Guard.
All three women acknowledged that when they began the care package project, they didn't expect it to last this long.
"We didn't think we'd be doing this seven years later," Valicenti said.
But the soldiers still are needed, and so are they.
Despite the drop in contributions, Support the Troops is going strong this year. They've raised about $500 so far and spent the majority of that Sunday, when the three women rang up about $470 worth of goods piled into six shopping carts. Valicenti said Support the Troops has a total of about $4,500 in its coffers, and the group plans to spend about $2,500 this year — leaving enough for one more holiday season next year.
"We need money," Hibbard said simply.
They hope to ship the care packages Dec. 2 this year, so they arrive in time for the holidays.
The trio filled their carts with anything they thought a soldier might need: foot powder, body powder, hand sanitizer, checker and chess boards, hot chocolate packs, jars of peanuts, dried noodles, chocolate — it won't melt this time of year, Valicenti said — toothbrushes, holiday decorations and more.
"I never thought my son would ask me for laundry detergent," Hibbard joked. She and McNasby said many soldiers in Afghanistan don't have access to a commissary, which would provide simple hygiene products and day-to-day items.
So they try to fill that gap by sending lip balm, cough drops, aspirin, deodorant and more. Valicenti said that although they address items to specific soldiers — and they're always looking for more local names — the care packages are shared between entire units because the need is so great.
"You'd like to think everyone over there is getting care packages, but that's not the case," Valicenti said. "What we do covers hundreds."
McNasby said Support the Troops usually sends about 30 boxes for the holidays, sorting goods and packaging them in a mammoth group effort in a warehouse at Copper Ridge Business Park.
"You should see the night of shipping," McNasby said.
Hibbard said this year, the group is sending items to the unit of Sgt. 1st Class Richard Lopez, who died three days after a Jan. 2 altercation in downtown Steamboat Springs. Timothy and Michael Wesley Mottlau were with Lopez on Jan. 2. Two Miami brothers are charged in connection with the altercation. A 10-day trial is scheduled for February.
The women credited Conroy Moving & Storage and PostNet for in-kind donations and help with the care package process. They also listed numerous local volunteers who pitch in with Support the Troops. More help, donations and addresses of soldiers are always welcome, Valicenti said — regardless of political views.
"Support the Troops is not a statement of whether or not you support the war," Valicenti said, adding that the group's effort is simply to help soldiers experience some of the comforts of home.
"It's to show you care."