Photo Gallery
Sailors vs. Spartans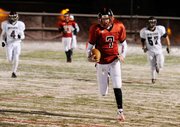 Game statistics
First Downs: 15 (Berthoud), 13 (Steamboat Springs)
Rushes-Yards: 43-106 (Berthoud), 34-172 (Steamboat Springs)
Comp-Att-Int: 14-22-0 (Berthoud), 8-15-2 (Steamboat Springs)
Yards Passing: 160 (Berthoud), 78 (Steamboat Springs)
Total Yards: 266 (Berthoud), 250 (Steamboat Springs)
Punts-Avg.: 5-36 (Berthoud), 5-41 (Steamboat Springs)
Fumbles-lost: 4-3 (Berthoud), 3-0 (Steamboat Springs)
Penalties-Yards: 6-60 (Berthoud), 9-79 (Steamboat Springs)
SCORE BY QUARTERS
Berthoud 00-00-07-06—13
Steamboat 07-07-10-00—21
SCORING SUMMARY
■ First Quarter
SS: 2:19, Joe Dover 3 run. (Pete Schuette kick).
■ Second Quarter
SS: 3:47, Austin Hinder 66 run. (Schuette kick).
■ Third Quarter
SS: 10:16, Schuette 26-yard field goal.
SS: 8:20, Dover 70 punt return. (Schuette kick).
■ Fourth Quarter
B: 5:30, Chase Fraser 5 run. (Colton Moore kick).
B: 3:05, Zachary Ruebesam 1 run. (pass fail).
INDIVIDUAL STATISTICS
■ Rushing
B: Fraser 12-59, 1 TD; Flynn 17-48, 1 TD; Zachary Ruebesam 14- (-1).
SS: Dover 19-64, 1 TD; Hinder 14-111, 1 TD; Bryce Mayo 1- (-3).
■ Passing
B: Ruebesam 14-22-0, 160 yards.
SS: Hinder 8-15-2, 78 yards.
■ Receiving
B: Flynn 10-116; Pat Conrey 2-24; Fraser 2-20.
SS: Jack Spady 5-49; Dover 3-29.
Steamboat Springs — If Friday's 24-13 opening-round playoff win against Berthoud proved anything, it's that this Steamboat Springs High School football team is so much more than the glitz and glamour of stats in a box score.
On a night when the offense gained a season-low 250 yards and much ballyhooed quarterback Austin Hinder matched his interception total for the season with two, the Sailors simply won with their defense and special teams.
Steamboat limited Berthoud to 266 yards on offense, created three turnovers — including two inside the red zone — and got two monumental returns on kicks from Joe Dover.

"It took them a couple series," Steamboat coach Aaron Finch said about his defense. Berth­­oud "executes the option really, really well. Our guys got it in a couple series. We had guys flying around hitting. You got to play defense when it's like this. You got to be able to play defense."
Steamboat certainly did.
The Sailors held a strong Berthoud running attack to just 106 yards on 43 carries, picked up five sacks, caused five 3-and-outs and held on a fourth-down play inside their own 10.
"I'm a little out of it right now," Steamboat linebacker Mitch Lekarczyk said after the win on a chilly night at Gardner Field. "Every person was playing hard. The great thing was, every time I would screw up, someone else would get a sack or something."
In a classic defensive battle, with weather that would make Green Bay blush, it was just what Steamboat needed to win.
And when the Sailors saw opportunities, they took advantage. The first came midway through the first quarter after Berthoud had its second fumble in as many drives.
The Sailors got the ball at the Spartans 36-yard line and used seven plays before Dover took it in from three yards out to put Steamboat up, 7-0.
"We were just trying for extra yards, and stuff happens," said Berthoud running back Kent Flynn, who had 48 yards rushing and 116 receiving. "You mishandle the ball or get hit hard. That's a physical defense right there. I give them all the props in the world. They came out and stopped us and didn't let us score."
Then in the second quarter, on the biggest offensive play from either team, Hinder — who despite his struggles throwing ran for 111 yards on 14 carries — turned a broken play into a 66-yard touchdown scamper up the right sideline for a 14-0 lead.
With it still a game, Dover took the opening kick of the second half 84 yards to set up a 26-yard Pete Schuette field goal, giving the Sailors a 17-0 lead.
After holding Berthoud to a 3-and-out, Dover went to work again.
This time, he fielded a punt at his own 30-yard line and took it 70 yards for a 24-0 lead with 8 minutes, 20 seconds left in the third quarter.

"It was redemption. I wanted to go faster and pick my legs up, but the cold got to me on that first one," Dover said. "That second one, once I got out of the pile, I just had to beat one guy. Even if he grabbed me, I was going to drag him into the end zone. We needed that."
Berthoud didn't give up. The Spartans went 83 yards on 13 plays, capping the drive with a 5-yard touchdown run from Chase Fraser to cut the lead to 24-7.
The defense again held Steamboat to a 3-and-out and used only 47 seconds before Flynn's 7-yard touchdown scamper cut the lead to 24-13 with 3:05 left in the game.
Steamboat recovered the ensuing onside kick, picked up two first downs and was able to run out the clock.
"We're inside the red zone three times, and we come up empty," Berthoud coach Dan McGinn said. "They get two good returns by their kid and that's the difference in the game. They didn't do anything we didn't think they would do. We just need to learn inside the 15 and the 10 we've got to finish. That was it."
Steamboat will play the winner of today's game between fifth-seeded Windsor and 12th-seeded Pueblo County. A time, date and place will be determined later. If Windsor wins, the game will be in Steamboat. If Pueblo County wins, the game will be in Pueblo.