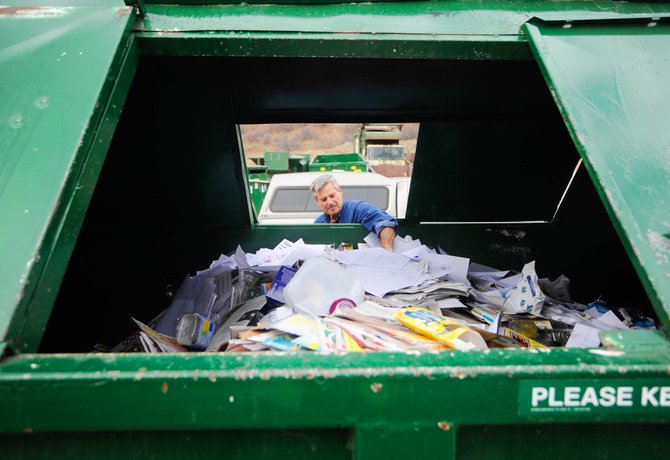 Recycling discussion focuses on single-stream system
Friday, November 13, 2009
For more
Watch a video about one of Waste Management's sorting facilities for single-stream recycling flow here. Learn more about what can be recycled in Routt County here.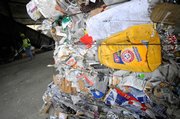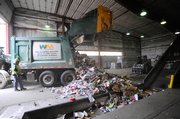 Single-stream recycling in Steamboat FAQ
Q. What do I do with corrugated cardboard?
A. Corrugated cardboard can be included with single-stream curbside pickup for Waste Management customers if it is broken into about 2-by-2 foot and is bundled with no more than a few pieces at a time. Residential pickups can't load larger bundles. Waste Management representatives discourage putting cardboard in the Green Machine and keep several bins for it at the Downhill Drive drop-off center. Soda and other drink cases typically are made of paperboard and can be recycled in single stream.
Q.It has a number in a recycling symbol triangle on the bottom. Can I recycle it in single stream?
A. Maybe, maybe not. Acceptable items include: aluminum, glass, plastics numbered 1-7, paperboard, aluminum foil, office paper, junk mail (envelopes with plastic windows included), receipt paper, sticky notes and newspaper.
Items that aren't accepted include: all lids, waxy cartons (like those containing orange juice), Styrofoam and most packaging material, self-contained aerosol containers, foil-lined plastic bags (like those containing chips), mirrors, ceramics, glass cookware and light bulbs.
Q. What do I do with plastic bags?
A. If possible, don't use them. If used, plastic grocery and produce bags need to go back to their source: in Steamboat, that's City Market, Safeway or Staples. From there, the bags will be recycled. Any plastic bags that go in the Green Machine will end up in the trash.
Q. Does single-stream recycling end up in the landfill?
A. No. It goes to Downhill Drive, where it's baled. Then it goes to a facility in Denver, where it's sorted, re-baled and moved on for further processing or for sale.
Q. How do I dispose of household hazardous materials, electronics, light bulbs, batteries, furniture, construction materials, tires or other items not accepted in Waste Management's Routt County single stream?
A. Yampa Valley Recycles offers extensive resources about how to properly dispose of almost any kind of item. Go here and look at the "What Can I Recycle" section to see a full list, or call the group's recycling hotline at 870-7575.
Steamboat Springs — Lots of things are recyclable. Not all of them can be recycled in Routt County.
That was the predominant message at "Recycling 201," a Talking Green event Wedne­sday evening at Steamboat Smokehouse. Speakers from Waste Management, Twin Enviro Services, Yampa Valley Recycles and HomeLink Mag­azine outlined recycling basics in an hourlong lecture to a standing-room-only crowd in the Smokehouse banquet room.
"It's actually not a question of what's recyclable. It's more of a question of what's acceptable through our local streams," HomeLink Magazine publisher Josh Nass said, picking through months of old trash to showcase what is acceptable in Waste Management's single-stream recycling program.
The talk was meant to give an expert ruling on recycling, said Angela Ashby, chairwoman of the Yampa Valley Sustainability Council, a group focused on sustainable and green practices that presents Talking Green events.
Wednesday's event came a few days before America Recycles Day on Sunday, a national effort by Keeping American Beautiful and the National Recycling Coalition to educate people about recycling.
Zuff Zuffelato and Steve Johnson, of Waste Manage­ment, were in the audience, fielding questions from locals about what they can put out on their curbs and in Green Machin" collection bins. Zuffelato and Johnson explained the single-stream process during a tour of the Waste Management Materials Recovery Facility — they pronounce it "murf" — Thursday afternoon on Downhill Drive.
The rules
Logistics are behind most of the things Waste Management doesn't accept in single stream. The facility ships product in 2,000-pound bales; any item that can't be reasonably baled isn't accepted.
Everything that's picked up in town or dropped off at Downhill Drive is baled at the Steamboat MRF and shipped to a larger facility on Franklin Avenue in Denver. There, machines break the bales down and then sort the rubble and pick out trash. Workers also sort recyclables and pick out unwanted or contaminated items.
"Some is removed here locally, and anything that gets through will be taken out at Recycle America down in Denver," Johnson said. Bags of trash and larger items that are easy to spot are picked out before they go through the Downhill Drive baler.
Any contamination that gets into that process — unclean recyclables, oil, food matter, trash or other unwanted items — makes it more difficult and more costly and can jeopardize the final product, Johnson and Zuffelato said. Sorted recyclables go from the Franklin Street MRF to other processing centers, mills or buyers.
A new system
Waste Management built the Downhill Drive Materials Recovery Facility in 1992. The company teams up with America Recycles for its use of the Franklin Street facility and has a partnership locally with Yampa Valley Recycles to host Green Machine drop-offs and spread the word about what to put in them.
The whole operation switched to single stream from a commingled, sorting-necessary system about two years ago, Zuffelato said. Since then, representatives of Waste Management and Yampa Valley Recycles have fielded questions and skepticism about the system.
"When people say recycling goes to the landfill — the baler alone cost $900,000 in 1992. We spent some money for a recycling center. We're not going to be landfilling it — that's crazy," Zuffelato said, dismissing an occasional concern.
If trash ends up in the Green Machine, that trash is thrown away, and everything else in the bin is recycled, he said.