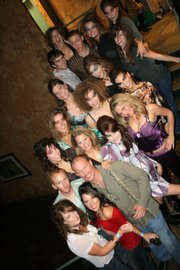 If you go
What: Fashion for a Cause
When: Doors open at 6 p.m. Saturday
Where: bistro c.v., 345 Lincoln Ave.
Cost: $10 at the door; all proceeds go to the Boys & Girls Club of Steamboat Springs
Call: Token Threads at 871-4732
Steamboat Springs — At the inaugural Fashion for a Cause fundraiser in 2008, Chrissie Hodges and her team of show organizers had to turn people away at the door.
The event — a fashion show featuring styles from Hodges' Token Threads, hair and makeup from Waterside Day Spa & Salon, and food and drinks from bistro c.v. — was a benefit for ailing Steamboat Springs child Tyler Johnson. The fundraiser was a booming success, Hodges said.
"People came out to support Tyler last year, and it just shows the way the community pulls together in times of need," she said.
Hodges hopes to re-create that community feeling in a sophisticated night of fashion Saturday with the second annual Fashion for a Cause. Doors for the event open at 6 p.m. at bistro c.v. with female and male models taking turns down the runaway starting at 8 p.m. DJ Founder will provide music until about 11 p.m., when Hodges encourages anyone who wants to stay out to move the party to Mambo Italiano.
All proceeds from the door and scattered donation jars at Saturday's show will go to the Boys & Girls Club of Steamboat Springs. The club, based in the George P. Sauer Human Services Center on Seventh Street, provides activities such as arts and crafts, sports and recreation, and educational programming to children ages 6 to 18.
"We just felt like it's such a good thing for our community. It's a place to go, and parents need that kind of support and help," Hodges said about the Boys & Girls Club.
Fashion for a Cause also offers a venue for Hodges and Waterside to gain exposure for their businesses and for them to use those businesses to give back to the community, she said.
Hodges has recruited friends to model her women's winter fashions from Token Threads, and a few local men will model winter wear from BAP. The models will do two rounds on the runway for the hour-long fashion showcase. Shana Thomas and Heather Bolles, of Waterside Day Spa, plan to take their models' hairdos out instead of up, Hodges said.
Event organizers surpassed their fundraising goals in 2008, surpassing their hopes of bringing in $800 with a total collection of $1,600 for Johnson and his family. Hodges hopes for another strong turnout Saturday.
Fancy dress is encouraged, and Hodges plans for the evening to have a low-key party atmosphere.
"We're just excited to be able to do this," she said. "Heather, Shana and I are so passionate about this fashion show, especially after the success of last year. We wait all year for it."