Samoan relief event raises $28K
Steamboat Springs resident Pio Utu planning trip to oversee use of funds
Tuesday, November 10, 2009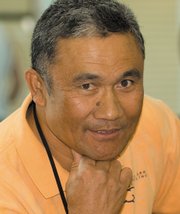 To give
Donations can be made to the Samoan Tsunami Relief Fund at Alpine Bank, 1901 Pine Grove Road in Steamboat Springs.
Steamboat Springs — Residents raised so much money for relief efforts in the Samoan islands that Pio Utu suddenly is looking at airfares.
Utu said Monday that an Oct. 24 event at Steamboat Springs High School, to benefit Samoan citizens rebuilding after a devastating earthquake and tsunami that struck Sept. 29, raised $28,400. Luther Berntson helped organize the event along with a committee that initially included Keith Zuehlke, Greg Fritz, Bert Svendsen and Scott Fox, and grew to include many more. Berntson said more than 600 people were served at the event, which had a luau theme and included smoked pig and turkey "with all the trimmings."
"It's amazing how people came out — it was a great community event," Berntson said. "The electricity in the crowd was just great."
Utu said Monday that the extent of the donations has driven him to plan a trip to Samoa to personally see that the money goes to the proper places. He hopes to leave shortly after Thanksgiving on a trip of 10 days to two weeks, he said.
"We all agree that I should go to make sure that the money goes to the right people — we're not going to release anything until I go down there and see where it goes," he said.
Utu owns Strong Arm Cleaners and Strong Arm Security and has worked with young athletes in the area for more than 25 years. Last month, he said every member of his large extended family in Samoa was safe after the disaster, which killed more than 110 people and left vast swaths of property damage across the islands. Utu has said his sister, Sose, and his brother-in-law, Fono Fepulea'i, are working on relief efforts in Samoa with an international Christian charity group, Youth With a Mission.
Berntson, 77, said he met Utu through their church, Concordia Lutheran, and has witnessed Utu's generosity to others and willingness to help local youths throughout the years. When he learned about the Samoan disaster, Berntson said, he decided to reach out to Utu.
"Pio is a very good friend of ours, and a good friend of a whole host of people, and he's just been so generous — and we also saw the need there," Berntson said. "This one was especially close because of Pio, and that's what kind of prompted me to do something."
Berntson and Utu said the amount of money raised was surprising and gratifying.
"We knew Steamboat was generous, and we knew Pio was popular, but this exceeded our expectations," Berntson said.
"That was very generous of all the people," Utu said Monday. "It was a very successful event."
Utu said he is looking for somebody to accompany him on the trip to Samoa, and any volunteer is welcome, but he said that person would need to pay their own airfare.
He plans to bring back pictures of the situation and relief efforts as well as reports about how the donated money was spent.
Utu said he has had sporadic contact with family members in Samoa, who face a long rebuilding process and an oncoming cyclone season.
"They are mostly cleaning and moving trash and burning it, putting temporary shelter for people," he said. "So far that's what I've heard."