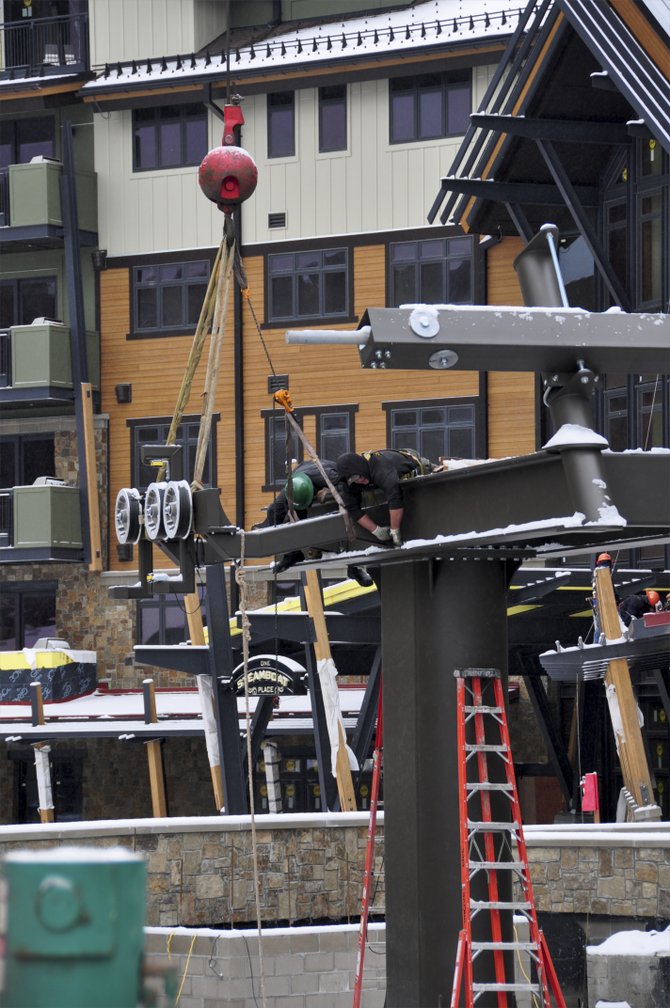 Wildhorse gondola construction steadily progessing
4 suits for condo sales pending
At a glance
■ Open to the public beginning in February 2010.
■ Travels 2,000 feet to an upper terminal at One Steamboat Place.
■ Carries 340 people per hour in four groups of two, six-passenger cabins.
■ Pulse gondola stops for unloading when pairs of cabins reach upper and lower terminals.
■ Future option of increasing capacity to 500 passengers per hour.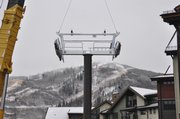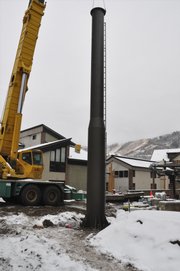 Steamboat Springs — The gondola towers rising from Wildhorse Meadows are tangible evidence of the steady progress being made at Wildhorse despite the down economy. But closings on 30-plus condominiums at Trailhead Lodge can be expected to continue at a gradual pace for months to come, and company officials acknowledge that four lawsuits for Trailhead contracts are pending in federal court in Denver.
Kerry Shea, Resort Ventures West director of sales and marketing, said this week that officials of Leitner-Poma in Grand Junction expect to be done with their portion of the Wildhorse gondola construction this year, and the goal remains to open the gondola to the public in February 2010.
"Leitner-Poma expects to be done with its portion of the work by the end of the year, but we'll still have all of the certification and testing to do," Shea said. "If we can open it to the public sooner, we will, but it looks like we're on track for February."
Wildhorse Principal and Chief Financial Officer Brent Pearson confirmed this week that 20 condominiums at Trailhead have closed. Although the growing list of closings builds confidence among contracted buyers, he said, and the completion of the gondola should boost that confidence to a new level, he acknowledged that he expects more than half of the original 63 contracted buyers to close on their units. He said financing each sale and closing it requires working one-on-one with buyers.
"We have two more closings scheduled within the next three days," Pearson said. "We're going one by one. Past are the days when you'd close 10 a week. We'd need a staff of 15 to maintain that pace.
"We won't close all 63 contracts. Some of our buyers have gone into partnerships on a single unit (reducing the overall number of sales), and we've had a couple of buyers affected by serious health issues. We'll be somewhere above 50 percent of the original contracts."
Pearson said there are four lawsuits for Trailhead contracts pending in U.S. District Court in Denver. Two of the suits involve Trailhead Lodge LLC as the plaintiff seeking specific performance of the contracts and compelling buyers to close, Pearson said. Trailhead Lodge LLC/RP Steamboat Springs LLC is the defendant in two suits in which contracted buyers are seeking to have their contracts voided under terms of the federal Interstate Land Sales Full Disclosure Act.
Documents on file in federal court show that one of the suits against RP Steamboat Springs was filed by a Dallas woman, Judy C. Odom, about the sale of a condominium originally marketed for $1.13 million.
Another suit, involving two rural Steamboat parties, contests the sales contracts of two units. Kristine Bensler had contracted to buy three-bedroom condominium unit 5104, which originally was marketed for $1.675 million, or $1,085 per square foot. Joining her in the suit are her neighbors in Grouse Creek Park, Ann and Harold Noyes. They contracted to buy 1.5-bedroom condominium unit 5109, which was originally marketed at $875,000, or $889 per square foot.
The Bensler/Noyes suit claims that the developers of Trailhead failed to provide adequate and appropriate notification of key dates or information about completion of the condominiums as called for in the Interstate Land Sales Full Disclosure Act.
Phone calls to Bensler and the Noyeses were not returned by press time Thursday.
First Tracks notches sales
While the lawsuits work their way through federal court, Wildhorse Meadows continues to see modest progress.
A fourth original affordable buyer bought a modest condominium in First Tracks at Wildhorse for $187,500 this week. And Pearson said six more sales were pending, including some open market purchases.
First Tracks is the result of the city of Steamboat Springs' former affordable housing requirements. Now, those condominiums, which are not as luxurious as those in Trailhead, are available for purchase with no restrictions on how they appreciate. Buyers have the right to join the club allowing full access to Wildhorse amenities including the fitness club and hot pools.
Pearson remains confident that as First Tracks builds up its sales résumé, more and more buyers will be attracted.
"Just the fact that people are understanding that other people are closing on purchases at Trailhead has helped," Pearson said. "As the gondola goes up, they start to realize that they will be able to leave their condo, board a gondola and walk over to the ski lifts. What I really believe is going to happen at First Tracks is that there will be an epiphany — 'this is the best buy at the mountain' — from my standpoint."