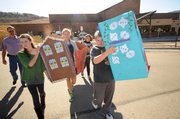 How to help
Toy drop-off information:
■ Operation Christmas Child, toy donations to children in more than 100 countries worldwide
When: Collection times are from 8:30 a.m. to 4:30 p.m. Nov. 16; 9 a.m. to 4 p.m. Nov. 21; and 9 a.m. to 1 p.m. Nov. 22
Where: Concordia Lutheran Church, 755 Concordia Lane
Cost: Donations must be packed in a shoebox or a plastic box, with a $7 shipping fee included
Call: Linda Jackson at 819-1859 for more information
To donate: A list of suggested donation items is at www.samaritanspur...>
■ Toys for Tots, toy donations to children in Routt and Grand counties
When: A bowling fundraiser for Toys for Tots and the Steamboat HBA is from 6 to 11 p.m. Nov. 14
Where: Snow Bowl
Cost: $25 admission gets one game of bowling, food, drinks and bowling shoes; additional games are $25
Call: Teri and Gary Wall at 879-6184
To donate: Bring a new, unwrapped toy to the bowling fundraiser Nov. 14; pay the bowling admission fee to help HBA buy toys for needy local children; or drop a toy in one of almost 30 collection boxes at local businesses.
Steamboat Springs — Four years ago, Linda Jackson and 16 fellow members of Concordia Lutheran Church traveled to Denver just before the holidays and volunteered to look through thousands of shoeboxes filled with donated gifts.
Colorado residents donated the shoeboxes of toys, school supplies and other gifts to children around the world through Operation Christmas Child, a holiday season project of the Christian-oriented relief and evangelism organization Samar­itan's Purse.
"I was so impressed and so moved by the ministry that I volunteered to lead the charge at Concordia to be a drop-off center," Jackson said. On Nov. 16, Concordia Lutheran Church will start its second year as the only Operation Christmas Child drop-off point in Steamboat Springs.
Once the shoeboxes of approved gifts are checked over at the Denver drop-off center where Jackson volunteered, they'll go to children in more than 100 countries affected by poverty, war and natural disaster.
"It's just the most worthwhile thing for children around the world that you can imagine," Jackson said.
In its first year, Concordia Lutheran collected 250 shoeboxes full of gifts from organizations and individuals in Steamboat Springs. For the church's second collection, Jackson hopes to add 100 shoeboxes to last year's total.
"Our goal this year is 350 boxes, and we're off to a good start," Jackson said.
Gift suggestions vary by gender and age group, and the Operation Christmas Child Web site offers sample gift lists for each category. Ideas that work for most categories include toys such as small cars, balls, dolls and jump ropes; school supplies such as pens, pencils, crayons and writing pads; hygiene items such as toothpaste, toothbrushes, bar soap and washcloths; and other items such as lollipops, T-shirts, ball caps and flashlights, according to the ministry's Web site.
Prohibited gifts include used or damaged items; war-related items such as toy knives, guns or military figures; liquids or lotions; breakable items such as snow globes; medications or vitamins; and chocolate, out-of-date candy or other food, according to the web site.
Toys for Tots
Closer to home, the Home Builders Association of Steam­boat Springs and Routt County will lead the charge for the Toys for Tots gift drive this year. A bowling fundraiser Nov. 14 and gift boxes decorated by local students and placed across town are part of the effort to give holiday gifts to children who need them in Routt and Grand counties.
"HBA members build houses, but now we should help build homes, too," said Teri Wall, whose husband, Gary, not the sheriff, is president of HBA Steamboat.
A beef, beer and bowling fundraiser from 6 to 11 p.m. Saturday at Snow Bowl invites the public to bring a new, unwrapped toy for the Toys for Tots drive while supporting HBA's overall fundraising effort for the program.
Teri and Gary Wall hope to raise at least $2,000 at the event, which has a $25 fee per person, per game. Admission includes one game of bowling, food from Snow Bowl and Steamboat Smokehouse, shoes and beverages, which can include beer.
"We would like to see the whole town come out and bowl. In fact, I dare the whole town to come out and bowl," Teri Wall said.
HBA members have dropped off 21 toy-collection boxes at local schools in the past few weeks. Students are decorating those boxes, which will be placed at local businesses that have volunteered as Toys for Tots collection points. The effort is in conjunction with the Toys for Tots collection truck that will be in front of Steamboat Mo­­­t­­ors starting the day after Thanks­­giving.
Toys for Tots is a national project of the U.S. Marine Corps Reserve, created to distribute new toys to needy children during the holidays. The Walls said they plan to work with Routt County United Way and Mountain Family Center in Grand County to identify needy families.
The Nov. 14 bowling fund­raiser includes prizes in a variety of contests. Team sponsorships are available starting at $100, and team registration is due Tuesday. Wendy's has signed on as a "Santa Claus" sponsor with a $300 donation, and Waste Management is signed up as an "Angel" sponsor with a $500 donation. HBA members will award prizes to schools for the best decorated drop-off boxes and make an official presentation of donated toys to local Marines for distribution at Mainstreet Steamboat Springs' Community Tree Lighting on Nov. 27.
"I would like to see how much this county cares about its kids and the kids in Grand County," Teri Wall said.