Photo Gallery
Steamboat tops Glenwood Springs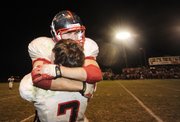 The Sailors' 30-21 win in Glenwood captured the Western Slope League title.
Game statistics
Steamboat, , Glenwood
19, First Downs, 17
38-205, Rushes-Yards, 36-167
10-22-0 , Comp-Att-Int, 14-26-1
205, Yards Passing, 210
410, Total Yards, 377
0-0, Punts-Avg., 0-0
0-0, Fumbles-lost, 1-1
4-26, Penalties-Yards, 7-55
SCORE BY QUARTERS
Steamboat, 14-00-07-09—30
Glenwood , 00-07-07-07—21
SCORING SUMMARY
First Quarter
SS — 5:33, Jack Spady 56 pass from Austin Hinder. (Pete Schuette kick).
SS — 3:52, Joe Dover 24 pass from Hinder. (Schuette kick).
Second Quarter
GS — 10:11,Tyler Thulson 13 run. (Clay Hawkins kick).
Third Quarter
SS — 7:11, Hinder 3 run. (Schuette kick).
GS — :53, Trey Fox 35 pass from Luke Jacob. (Hawkins kick).
Fourth Quarter
SS — 8:24, Hinder 1 run. (kick fail).
GS — 3:46, Garrett Kobobel 9 pass from Jacob. (Hawkins kick).
SS — 2:00, Schuette 21 field goal.
INDIVIDUAL STATISTICS
Rushing
SS: Dover 14-124; Hinder 21-74, 2 TD; Connor Landusky 3-7.
GS: Thulson 18-87, 1 TD; Jacob 17-79; Garrett Kobobel 1-1.
Passing
SS: Hinder 9-21-0, 180 yards, 2 TD; Dover 1-1-0, 25 yards.
GS: Jacob 14-26-1, 210 yards, 1 TD.
Receiving
SS: Spady 5-145, 1 TD; Dover 4-34, 1 TD; Jack Verploeg 1-26.
GS: Kobobel 4-54, 1 TD; Taylor Parsons 4-50; Fox 4-90, 1 TD; Willy Pelland 1-11; Thulson 1-5.
Glenwood Springs — Steamboat Springs High School do-everything athlete Joe Dover said it was the most fun he's had on a football field.
Considering what the 5-foot-10, 185-pound spitfire did in Friday's 30-21 win against Glenwood Springs, it also may have been the best he's ever played on a football field.
Dover was everywhere Friday night. He caught a touchdown pass, blocked a field goal, picked off a pass, completed a pass, rushed for 124 yards and made possibly the biggest fourth-down conversion of the season, helping lock up Steamboat's first Western Slope League championship since 2006.
"Those are the type of games that win you playoff games," Steamboat coach Aaron Finch said. "It's pretty amazing when guys like that step up and make every play you need. He was spectacular in every way. He did everything we asked of him. A lot of guys had great games, but there's no doubt we find ways to get Joe the football."
When Dover's around the football, good things usually happen.
Dover's biggest play took place with him lined up as the punter. Steamboat was holding on to a 21-14 lead with 11 minutes, 31 seconds to go in the game. Faced with a fourth-and-5 from his own 24, Dover lined up to punt. As a rugby-style punter, Dover usually has the option to roll out and kick the ball. Coaches told him to just kick the ball and not think about running.
But Dover saw an opening in the defense and ran for 22 yards and a first down. Six plays later, Austin Hinder scored from 1 yard out to give Steamboat a 27-14 lead.
"I was surprised, but he's a top-notch athlete," Glenwood coach Rocky Whitworth said about Dover's fake punt. "He was able to make a play. It was a huge play. He was able to change momentum and field position."
In what amounted to the Western Slope League's game of the year, Steamboat and Glenwood Springs — who have combined to win the last four league championships — certainly lived up to the billing.
Steamboat went up 14-0 in the first quarter on touchdown passes from Hinder to Jack Spady and Dover.
But just when the Sailors looked like they might blow the game open, the reigning Class 3A champions fired right back.
Glenwood cut it to 14-7 on a 13-yard Tyler Thulson run early in the second quarter.
Steamboat extended its lead to 21-7 on a 3-yard Hinder scamper, before Glenwood again cut the lead to seven, at 21-14, when quarterback Luke Jacob found Trey Fox from 35 yards out on a fourth-down play.
With momentum seemingly on Glenwood's side, the Demons held the Sailors on their next drive.
But that's when Dover took the long snap on fourth down and made the game-changing fourth-down conversion.
"It's either I get this and we can put the game away right now, or we punt it and still fight for it," said Dover, who at one point was throwing up in the backfield because of exhaustion.
Glenwood wasn't done, however. The Demons orchestrated an 11-play drive, capping it with a 9-yard touchdown pass from Jacob to Garrett Kobobel to cut the lead to 27-21.
After the onside kick failed, Steamboat moved the ball inside the Glenwood 10. Faced with a fourth-and-goal situation from the 6, Steamboat sent out kicker Peter Schuette.
Schuette, who had missed an extra point earlier in the night, lined up and split the uprights to give Steamboat an insurmountable 30-21 lead with two minutes to play.
"I wasn't nervous at all," Schuette said. "I like it when the crowd is like that and trying to get me to miss it. I knew if I made it, the game was over and we won."
Steamboat, now 10-0 overall and 8-0 in league play, awaits its playoff fate. The Colorado High School Activities Association will decide playoff seeds Sunday.
With the season Steamboat has had, Finch said the Sailors deserve the No. 1 overall seed.
"Of course I think we do," he said. "I think we have shown week in and week out that we've taken on every opponent. I think we have a tough league. To go undefeated we had to beat last year's state champ. We've made it look easy at times and we've won the close games. At 10-0, I think we deserve it."