Businesses, CDOT, contractors meet to talk about spring plans
Updated November 6, 2009 at 12:01 p.m.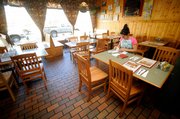 Contact CDOT
For information about the reconstruction work on U.S. Highway 40 from 13th to Third street, by the Colorado Department of Transportation through Scott Contracting, call project information manager Jody Patten at 970-819-7008, e-mail jody@pattencom.com or click here.
Steamboat Springs — Editor's note: This story has been corrected from its original version. Jody Patten is the U.S. Highway 40 project information manager for Scott Contracting. She is not a Colorado Department of Transportation employee.
After a fall season that has been nightmarish for some downtown businesses, talks are under way about how to better plan for effects of spring construction on Lincoln Avenue.
The Colorado Department of Transportation and Scott Contracting are wrapping up fall's portion of the major resurfacing and improvement project that's moving in stages between Third and 13th streets. Work on a box culvert at Seventh Street concluded Thursday morning, and the last day of work until spring likely is Nov. 13, a week away.
That day can't come fast enough for some downtown business owners, who said they were not prepared for the scope of the project's impacts, including road closures for five consecutive blocks and a lack of downtown parking.
Jamie McQuade, owner of Winona's Restaurant, 617 Lincoln Ave., said she lost $15,000 in the last two weeks of October.
"I'm down 50 to 60 percent … and if it keeps going the way it is, honestly, I'll be out of business in the spring," McQuade said Thursday night in Centennial Hall, at a meeting with representatives from CDOT, Scott Contracting and HDR Engineering, which is providing design support for the project. The meeting was held to discuss ways to mitigate effects of spring construction work, slated to start April 1, weather permitting, and continue through most, if not all, of June.
At that meeting or earlier this week, Joe Kboudi, of All That Jazz, Eric Dorris, of the Space Station gas station, Steve and Denise Hitchcock, of Zirkel Trading, and Lane and Debbie Anderson, of Awesome Shirtworks, all said the lengthy construction project — during a recession — is hurting their sales.
"That's our sandbox," Hitch­cock joked Wednesday, looking out the front window of his Seventh Street store at ground torn up for the box culvert. "The day before yesterday, we had one customer all day, and it was a return — so sales were negative $64."
In talking with construction representatives and city public works staff, business owners have expressed ideas including more advance notice and detail with construction schedules, variances to city sign codes to allow open businesses to promote themselves, more pedestrian access to downtown streets and an increased effort to provide downtown parking where possible.
"My big concern is the spring," Dorris said. "We need to understand, first off, what their exact plan is for ripping the road up and road closures. … And the main thing we need to figure out is how to get locals to these businesses that depend on them."
U.S. Highway 40 project information manager Jody Patten said advance notice of spring plans would be provided. The annual meeting of Mainstreet Steamboat Springs on Jan. 15, for example, will include significant discussion about spring construction.
"We are hoping to have a phasing and work schedule by January," said Glenn Violette, of HDR Engineering, which is based in Denver.
Patten said she would provide additional updates to business owners and is planning a public meeting in March.
Looking ahead
Contractors are hoping the spring's work goes much smoother than this fall's. Cody Patterson, site superintendent with Scott Contracting, said his crews ran into unexpected problems — such as unknown utilities — "everywhere" they dug a hole this fall, causing delays in the work. Work in the spring predominantly will be above ground, consisting of tearing up asphalt along Lincoln Avenue and pouring concrete. Patterson said the bulk of that paving would happen at night.
Contractors have obtained a noise variance from the city, Violette said, to allow saw-cutting and other heavy work — but no jackhammers — at night in downtown Steamboat in the spring. Watching the weather will be crucial for crews as they tear up asphalt and pour concrete.
"There are huge weather risks once we start tearing asphalt," said CDOT resident engineer Dave Schneider, who is based in Craig.
But if everything goes as planned, the repaving will proceed through the spring at Third and 13th streets in Phase 1 and from Fourth to 12th streets in Phase 2 — one side of the street at a time — in a to-be-determined schedule. Scott Contracting has an $80,000 incentive to finish by July 1, Schneider said.
Kboudi, who said he is doing "about half" of expected sales lately, asked contractors Thursday whether some of the spring work could be moved into fall 2010.
"You're talking about three summer tourist weekends," he said, referring to late June. "I can't believe that you're thinking about taking the work into June."
City public works engineer Ben Beall said the project's schedule already is "very aggressive" and noted the risk of pushing such weather-sensitive work into the fall.
The frustration of business owners was apparent at Thursday night's meeting, which also included ominous anecdotes of falling local sales.
"The city of Steamboat Springs has no idea what it's in for if it's like this in the spring," McQuade said, referring to potential losses of sales tax revenues.
Anderson said the Lincoln Avenue project was hard to swallow on the heels of new developments including Howelsen Place and Alpen Glow.
"You've got to understand, we're coming off two years of downtown construction," Anderson said. "The frustration level is pent up."
Patterson said his crews are doing all they can to get the job done safely and efficiently — and get off a completed Lincoln Avenue.
"We all have the same common goal," he said.
Business owners can call Patten at 819-7008, e-mail jody@pattencom.com or visit CDOT's project information Web site at www.coloradodot.info/projects/us40steamboat.