Election 2009
Visit
www.steamboatpilot.com/election2009
for complete coverage of this year's races and issues.
Document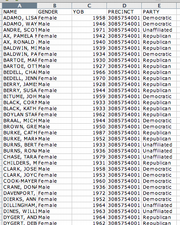 Steamboat Springs — Routt County's first election conducted exclusively with mail ballots isn't likely to be its last.
"I'm really pleased with the process," Routt County Clerk and Recorder Kay Weinland said Wednesday, the day after the election. "I do plan to continue with the mail-ballot election as often as statutorily allowed."
That means an all-mail-ballot format may continue to be used in August primary and November odd-year elections in Routt County. Colorado law does not allow a mail-ballot-only option for the partisan, general elections held in November of even-numbered years. Those elections, including Routt County's 2010 general election, will continue to offer two weeks of early voting, mail-in ballots and Election Day voting at polling places across the county, Weinland said.
"It was efficient, and the fact that we had results by 7:30 (p.m.) was great," Weinland said about this year's election. "I think it gave voters an opportunity to vote on their own time and in the comfort of their own home."
At 36 percent, turnout was lower this year than in previous odd-year elections in Routt County. There was 57 percent turnout in 2007, 56 percent in 2005 and 51 percent in 2003. Weinland said it's not fair to blame the election's format for reduced turnout and noted that the ballot contained few decisions.
"I think we would have had a really low turnout regardless," Weinland said.
Routt County's turnout was comparable to other areas of the state. The Denver Post reported turnout in several Front Range counties at 25 to 35 percent. In Moffat County, turnout was 11.5 percent. Voter turnout was 34 percent for a Vail Town Council election, according to Vail Daily. Voter turnout was about 42 percent in Grand County, according to Sky-Hi Daily News.
Weinland first proposed an all-mail-ballot election to save money during a county budget crisis.
"I'm really anxious to put together the numbers and see how much it saved," said Weinland, who originally estimated that the format would save the county $40,000 this year.
Weinland said she intends to reconvene the Citizen Election Review Committee that was created after the 2006 election to weigh in on the success of this year's election and the prospect of using the same format in future elections.
"The community perception of how this worked ought to be addressed by more than her office, and that's what that committee is for," said local attorney Mark Fischer, chairman of the election committee.
Committee member Catherine Carson said she thought this year's election "went very well" but said she would like to talk about increasing educational efforts and accessibility.
"Certainly, for the odd-numbered years it is cost-effective and a great way to run an election," Carson said.
Twenty-two ballots were not counted in this year's election because they were not signed or because the voter's signature did not resemble the signature on file with the county. Weinland said the 22 voters have been contacted.
"We write them a letter," she said. "They have until the close of business on Nov. 12 to come in and confirm their ballot."
Additionally, about 1,600 ballots were returned to the county as undeliverable because of out-of-date addresses or other problems, and never claimed. Weinland said she has ideas to reduce that number but also guessed that many of the ballots belonged to voters who did not update their mailing address because they had no intention of voting in this year's election.
"I'm really sad that voters feel that way : but that's something I can't do anything about," Weinland said.