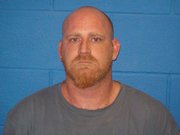 A Steamboat Springs man arrested in a December raid was sentenced to more than eight years in federal prison after he pleaded guilty to possession of a machine gun and possession of and intent to distribute cocaine.
Hans Conrad Cartin's case was picked up by the Bureau of Alcohol, Tobacco and Firearms after he was arrested with two "AR-15-style rifles" that had been converted to full automatic fire, Routt County Sheriff's Office Investigator Ken Klinger said.
Cartin, 34, received 97 months in federal prison, followed by three years of supervised probation.
Cartin has been in custody since his arrest Dec. 19.
"It's more than I had hoped for," Klinger said about Cartin's sentence.
Detectives also found a handgun with the serial number removed, and deputies at the time reported finding 20 grams of methamphetamine and 33 grams of cocaine.
The raid on the house where Cartin lived, on Routt County Road 14C, was initiated by Steamboat Springs Police Department officers searching for one of Cartin's roommates, who was suspected of stealing a large-screen television from his employer.
Klinger said deputies found a video on YouTube showing Cartin setting off explosives and decided to use a SWAT team raid on the house. Klinger said there was no evidence of explosives at the house, and the video quickly was removed from YouTube.
In exchange for Cartin's guilty plea Oct. 16, prosecutors dropped a charge of possession of firearm by a prohibited person. Cartin also was ordered to pay $200 to the Crime Victim Fund, but all other fines were waived because of an inability to pay.