Photo Gallery
Election Day 2009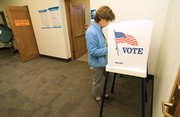 Steamboat Springs — Results for the 2009 election are in.
Cari Hermacinski defeated Kevin Bennett, 2,066 votes to 1,184 votes, in the Steamboat Springs City Council District 1 race.
In the District 2 race, Kenny Reisman defeated Ken Solomon, 1,776 to 1,379.
Jim Engelken defeated Kyle Pietras in the at-large race, 1,787 to 1,382.
Councilman Walter Magill ran unopposed in the District 3 race and received 2,293 votes.
Hayden voters were asked to approve a pair of new taxes aimed at boosting town coffers with money from tourists. Voters approved Referendum 2B instituting a 3.5 percent tax on car rentals, 191 to 158. Voters approved Referendum 2A instituting a 3.5 percent tax on lodging, 186 to 164.
In the contested Steamboat Springs School Board race, Brian Kelly defeated Bill Kennedy, 2,174 to 1,546, for a District 1 seat. Denise Connelly ran unopposed for re-election to a District 3 seat and received 2,749 votes.
Two seats were contested on the Hayden School Board. Tim Frentress defeated Darren Zehner, 356 to 192 for a District A seat. Vance Fulton defeated Laurie Hallenbeck, 341 to 206 for a District B seat. Kurt Frentress ran unopposed for a District C seat and received 461 votes. Brian Hoza ran unopposed for a District E seat and received 450 votes.
Referendum 2C asked city voters to approve changes to Steamboat's Home Rule Charter to lower the city's referendum threshold to match the state's requirement that petitioners collect signatures from 10 percent of registered voters instead of the charter's requirement of 20 percent. It was approved, 1,974 to 1,114.
A total of 4,942 people cast ballots in Routt County, 921 of them today.
- To reach Brandon Gee, call 367-7507 or e-mail bgee@steamboatpilot.com
Margaret Hair contributed to this story.