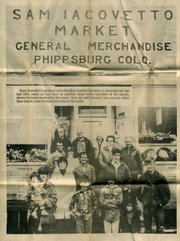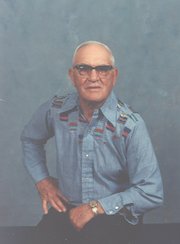 Jim Iacovetto, eldest son of family patriarch Sam Iacovetto, could be found around the South Routt area wearing his denim overalls, his denim jacket and his strong work ethic. As an engineer on the railroad for 43 years, Jim Iacovetto was part of a South Routt tradition of an involved family that shaped many aspects of early Phippsburg.
Iacovetto died Oct. 25 in Grand Junction. He was 96 years old and had lived in Delta County for the past 35 years.
As Iacovetto grew up in Phippsburg, the eldest of nine boys and one girl, he was part of a family that created some of the earliest businesses in the southern part of the county. Sam Iacovetto created a general market under his name, where he sold everything the miners and ranchers in the region would need.
His sister-in-law Louise Iacovetto said Jim helped out at the family store from time to time but that his heart was with the railroad.
"He worked on the railroad ... he always found something to keep busy," Louise said. "He was just a man who was always busy. He didn't sit and read or do anything like that."
Louise Iacovetto was a junior in high school when she stayed for a winter with Jim Iacovetto on the ranch a couple of miles outside of Phippsburg on Routt County Road 15.
"They treated me like family then," she said, even before she married Jim's brother Ray.
Jim Iacovetto originally was hired by the Denver and Salt Lake Railway, started by David Moffat, which later morphed into the Denver and Rio Grande Western Railroad.
Jim Iacovetto's nephew, Clyde R. Iacovetto, said one of his fondest memories of his uncle was when he was in third grade. Jim Iacovetto took Clyde's class on a field trip on the train, on one of the last passenger rail trips through the region.
"He took our whole class, and since I was his relative, I got to blow the whistle on the train," he said.
Family tradition
Sam and Angelina Iacovetto were married in Rome in 1908 and moved to Routt County in about 1910. When Angelina Iacovetto died July 30, 1985, her death announcement stated that in addition to her children, she had 30 grandchildren, 41 great-grandchildren and two great-great-grandchildren.
Sam Iacovetto's obituary, run in the Steamboat Pilot on Feb. 15, 1979, reported that the general store stayed in the family from 1922 to 1976.
"Sam shared a dream with thousands of other European immigrants during that period of time - the dream of America, where a man can earn a good living by hard work. He began to teach himself to read and write English," the obituary stated.
Of Sam and Angelina Iacovetto's children, Clyde Iacovetto (Clyde R. Iacovetto's father) and Angelo Iacovetto remain in Routt County. Louise Iacovetto's husband, Ray, was the postmaster of Phippsburg for 32 years. He died in 2006.
Jim Iacovetto is survived by his wife, Doris Iacovetto, of Austin, Colo.; sons Daryl and Gary Iacovetto, both of Austin, Colo.; brothers Angelo Iacovetto, of Clark, Clyde Iacovetto, of Phippsburg, and Victor Iacovetto, of Nevado, Calif.; sister Viola Dunn, of Denver; and 14 grandchildren, 26 great-grandchildren, and six great-great-grandchildren.