Steamboat Springs — Editor's note: The original version of this story incorrectly listed the amount of salt in the Drunken Onion's Savory Roasted Butternut Squash Soup recipe. The recipe requires 4 teaspoons of kosher salt.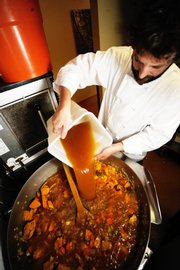 Winona's Creamy Butternut Squash Soup
Ingredients
1 pound unsalted butter
1 cup garlic
2 cups diced onion
4 cups white wine or cooking wine
5 pounds butternut squash, roasted or peeled and chopped (boil uncooked squash until soft)
1/2 gallon vegetable broth
1 teaspoon clove
1 teaspoon cinnamon
1 teaspoon ginger
2 tablespoons black pepper
4 cups brown sugar
1 quart heavy cream
4 quarts half-and-half
Sautee garlic and onion in butter until golden.
Add wine.
Add squash and vegetable broth.
Add the spices, brown sugar, cream and half-and-half. Puree until smooth with an immersion blender or in a food processor.
Ingredients
4 cups split peas (dried)
4 carrots, finely diced
4 celery stalks, finely diced
1 white onion, finely diced
12 cups water
1 teaspoon thyme
1 teaspoon garlic
1 teaspoon white pepper
1 tablespoon salt
Bring peas to a boil in 12 cups of water. Skim the foam that comes up off the top when the peas and water come to a boil. Simmer for 2 hours.
Add diced vegetables and spices. Add 4 more cups of water and cook for 2 more hours.
Season with salt and pepper to taste.
Ingredients
5 pounds butternut squash
1 1/2 cups yellow onion, medium diced
3/4 cup carrots, medium diced
3/4 cup celery, medium diced
3 tablespoons extra virgin olive oil
2 tablespoons roasted garlic
2 tablespoons white wine vinegar
1/2 teaspoon rubbed sage
3 1/2 quarts vegetable stock
1/2 cup heavy cream
1/4 teaspoon ground cinnamon
1 tablespoon lemon juice
4 teaspoons kosher salt
1/2 teaspoon ground black pepper
Peel and dice squash into 1-inch chunks. Coat lightly with 1 tablespoon olive oil and season with 1 teaspoon salt and a pinch of black pepper. Roast the squash on a baking sheet in a preheated, 425-degree oven until it starts to caramelize and soften, about 25 to 30 minutes.
Heat a large soup pot over medium-high heat. When pot is hot, add remaining olive oil and onions, carrots and celery. Lower heat to medium and saute, stirring regularly so veggies will caramelize but not burn.
After 4 to 5 minutes, add sage, then deglaze with white wine vinegar (deglazing brings everything off the bottom of the pan). Add vegetable stock, roasted squash and garlic. Bring to a simmer for 15 to 20 minutes.
Stir in cinnamon, remove from heat and blend until smooth (Drunken Onion Chef/Owner Ben Stroock recommends using an immersion blender.) Stir in lemon juice and then stir in heavy cream and season to taste with remaining salt and pepper.
Serve sprinkled with chopped Italian parsley, crusty bread and a dollop of crÃme fraiche, mascarpone or sour cream, if you like.
At the first sign of cold weather this year, Ben Stroock had a problem.
His Drunken Onion Get & Go Kitchen was just coming off a rush of end-of-summer catering when the air outside got chilly. Before he knew it, the eight to 15 varieties of soup he keeps in rotation were almost completely wiped out.
"It just becomes soup season and people just want all of them," Stroock said while pouring veggie stock into a vat of roasted butternut squash soup Thursday afternoon.
As the temperature falls, local restaurants kick their soup production into high gear to meet demand.
Winona's Restaurant goes through 25 to 30 gallons every few days, up from the same amount each week when it's warmer. Creekside Cafe and Grill trades a daily offering of broth-based French onion soup for a creamy ham and green chili option. Freshies Restaurant ups its soup menu from one variety to five to seven savory stews.
"Yesterday, we had three pots of soup on the stove; by 8 in the morning, we had 15 gallons of soup cooking," Freshies co-owner Scott Fox said Thursday morning. Fox shares the Freshies soup duty with two other cooks - among the three of them, the offerings change frequently to include hearty flavors such as butternut squash and tomato-basil in bisques, chowders and soups.
Winona's keeps just one official soup recipe on the books, and those chicken tortilla instructions are confidential, Winona's owner Jamie McQuade said. To fill out the restaurant's daily menu of five or six soups, cooks bring their favorites to the mix. Fall offerings include crab bisque, New England clam chowder, butternut squash, chicken bacon lentil, tomato Florentine, black bean, potato leek and creamy spinach-artichoke, McQuade said.
Cook for now or later
Pretty much anything that makes a cook happy can be classified as a fall soup.
"Think back to what your comfort foods are. I think everyone has their own idea of what that is," Stroock said.
Most soup preparations require just a few steps. A few right moves with the ingredients can make all the difference, Stroock said. A basic broth without overpowering flavor and kosher or sea salt help the soup's main components shine, and a splash of lemon juice at the end makes everything pop, he said.
For larger recipes, like many of those listed here, most home cooks will have leftovers. Refrigerate leftover soup uncovered until it is completely chilled. Portion the chilled soup into airtight containers; a quart of soup makes dinner for two people, Stroock said. Soup will stay good in a freezer kept at zero degrees Fahrenheit or less for as long as three months, he said.