Steamboat Homefinder
Visit SteamboatHomefinder.com for more real estate news.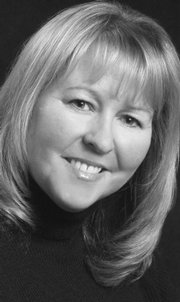 Steamboat Springs — Jill Limberg, managing broker/owner at Colorado Group Realty, was recognized with a Distinguished Service Award during the recent state convention of the Colorado Association of Realtors at the Broadmoor Hotel in Colorado Springs.
CAR President Amy Dorsey gave the award to Limberg in recognition of her work as chairwoman of the Professional Development Committee. She was instrumental in implementing changes in the way continuing education is provided to Realtors across the state.
Limberg has been involved with CAR since 1998. Since 2003, she has served on the Leadership Council, a group of 27 that serves the needs of more than 23,000 Colorado Realtors.
She has been a licensed broker in Colorado since 1992. In 2004, she joined Colorado Group Realty.
Putting a buzz back in Ski Time Square
While the redevelopment ground in Ski Time Square lies fallow, the developers are open to pitches from entrepreneurs with a business plan that could bring some life back to the commercial district at the base of Steamboat Ski Area.
The Atira Group's Mark Mathews said he'd like to hear from self-contained business that could bring more foot traffic to bolster a few remaining businesses in an area that was demolished in summer 2008.
"We'd like to bring more goods and services to the area," Mathews said. "We'll listen to any ideas people have."
Food carts, vendor kiosks and street musicians are possibilities in the summer and winter.
Mathews can be reached at 870-9800 or via e-mail at mmathews@theatiragroup.com.
Sales of most expensive homes dwindle in area
Million-dollar homes are a relative hot spot through the first three quarters of 2009, with 26 transactions valued at between $1 million and $1.5 million. Those sales accounted for $30.64 million of the overall housing dollar volume of $145.25 million, according to Bruce Carta of Land Title Guarantee Co. Another 10 homes priced between $1.5 million and $2 million sold in Routt County through Sept. 30.
Carta reports that just four homes were sold at prices higher than $2 million through the first nine months of the year.
Expansion planned for Aspen's opera house
Rick Carroll, of The Aspen Times, reports that Aspen's City Council is considering a conceptual plan to add a $30 million, 32,000-square-foot expansion to the historic Wheeler Opera House.
The council members seek assurances about the financial plan. The addition would be built on a vacant downtown parcel owned by the city.
Carroll reported that Wheeler Executive Director Gram Slaton told the council that the expansion would be funded by the Wheeler's $27 million endowment fund, with another $3 million required. The Wheeler is expected to realize about $2.7 million from the city's real estate transfer tax this year.