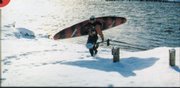 Steamboat Springs — Friday was one early snowy day that Chan Zwanzig spent indoors, shifting his mid-morning focus between reruns of "SportsCenter" on the television and the light snowfall out the window.
"Look outside on a day like today and you can see why my season is over," the local kayaking pioneer said with a laugh.
It was a different story 15 (or so) years ago.
Zwanzig can't remember whether it was 1994 or 1995, but on his 46th or 47th birthday he could only smile when he looked out on a freezing and snowy day like Friday.
Dec. 12, his birthday, was the latest in the season he ever dipped his kayak into the Colorado River for a run down Gore Canyon.
"The whitewater will never freeze," he explained. "But it splashes up on the boulders, and that spray will freeze on the rocks and grow like mushrooms until it covers everything over."
On that Dec. 12, it was like he was kayaking in a Mario Brothers fantasy.
He wore the warmest clothes he owned underneath a dry suit. He had to abandon the river and hoof his kayak around ice jams three times.
"We were portaging in a couple feet of powder on rocks. You almost had to sled your way through it," he said. "We were slipping and sliding, trying not to fall through the rocks and dragging a kayak and paddle."
When he finally reached the bottom, he pulled his kayak out of the river one final time, dragging it up through the kind of snow that would make most of Steamboat squeal with joy.
That was the extreme, but even kayakers who have no ambition to pull a kayak through fresh snow know that when it comes to late-season boating, Gore Canyon is as good as it gets.
Season extension
To many, Routt County kayaking meets its end as the snowmelt tails off and a parade of tubes and tourists swarm the oh-so-popular Yampa River wave at Charlie's Hole.
To the more serious, the season continues across the state. Just as it did 15 years ago, it all ends at Gore Canyon.
"For that whole end of the season, pretty much from the month of August on, we are traveling from Gunnison to Wyoming or wherever, but always down to Gore two or three times a week," local enthusiast Dan Piano said. "We go every weekend day and any time we can get out of work early."
Gore Canyon is an elite kayaker's dream come true. It is a seemingly endless supply of water that rushes through a treacherous canyon to create world-class rapids.
The canyon lies southwest of Kremmling. The Colorado River is the kayaker's highway, the water coming from the river's source in Rocky Mountain National Park and the Green Mountain Reservoir.
It offers nearly year-round appeal.
Year-round challenge
In the spring, the reservoir and the river's banks are pushed to the brink as the winter's snow melts away. The Gore can roar, pumping more than 10,000 cubic feet per second down the channel.
"That is as big and scary as any river anywhere," Piano said about the early season runoff at Gore Canyon, a phenomenon he and his friends try to hit several times a year. "When it's a high flow like that, it's a challenge to run. It can just get huge with 15-foot standing waves."
Through those months, Gore can be awesome, but it's one of many such experiences available for Colorado boaters.
The rest of the state dries up as the snowmelt flows southwest throughout the summer, however. Come fall, Gore stands head and shoulders above most of what remains.
When fall comes to Gore Canyon, the area's most dangerous aspects become more obvious.
A railroad runs along one of the canyon walls, which can tower as high as 1,000 feet above the water. When that track was built, much of the debris from the wall and any tunnels was blasted out, down into the water. That was long before anyone considered attacking that section of the river in a small plastic boat, but those boulders remain today and are the canyon's primary defense.
"Those rocks are sharp, meaning when you hit them, they hurt more than smooth, round boulders," Zwanzig said. "They create some phenomenal rapids that are still extremely difficult."
Finding the finish
For Piano, it came to an end within the last week.
The steady stream of water released from the reservoir was cut from a kayaker-approved 1,100 cfs to about 900 on Oct. 23. It was dropped again Monday to 800, and by Friday, it was trickling at about 550.
"It can be a fine line," he said. "It's safer at the lower levels, but around 800 some of the holes can get really sticky, and if you don't hit your line just right, it will suck you back in and beat the crap out of you."
He wasn't sweating it, however, having made about 30 trips in the spring, summer and fall to the canyon.
He and his friends spent the season on the highway, crisscrossing the region in search of running water.
"I'm addicted to it," Piano said about kayaking. "I've been doing it forever, and it kind of, well, it just makes me happy."
And he said that's what he found each of the 30 times he paddled into Gore Canyon even long after most kayakers had put their boats up for the winter.
"I still get nervous at the top," Piano said. "That's cool. It's always fun, always challenging, and every time you get to the bottom, if it went well, you're pretty happy with yourself."