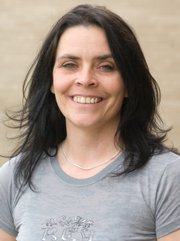 Steamboat Springs — Age: 35
Occupation: Records/evidence manager, Routt County Sheriff's Office
Place of birth: Lamar
Q. When did you move to Routt County, and what brought you here?
A. 2006. My husband received a work promotion.
Q. What's the biggest risk you've taken recently?
A. Processing unknown chemicals.
Q. What's the best piece of advice you've ever been given?
A. Live your life today because tomorrow may never come.
Q. What three things would you want people to know about you?
A. 1. My family is the most important thing in my life. 2. I am an avid dirt biker. 3. I always say what's on my mind.
Q. What did you want to be when you grew up?
A. A teacher or a cop.
Q. If you could invite any four people to dinner, who would they be and what would you talk about?
A. Joan of Arc, Cleopatra, Marie Antoinette and Susan B. Anthony. Women and power, of course.
Q. In the Meatloaf song, "I'd do anything for love, but I won't do that," what is that?
A. I would not give up my kids.
Q. What was your first job?
A. Carhop at Reid Diner in La Junta.
Q. Who is your favorite superhero? Why?
A. Wonder Woman. Let's face it, she was the first kick-butt woman ever.
Q. Do you have a tattoo? If so, what of and why did you choose it?
A. Yes. Grateful Dead Bear because the Dead rock.
Q. Do you have any phobias?
A. Terrified of heights.
Q. If you could go back in time, to what event or time period would you go?
A. Woodstock.
Favorites
Book: Forensic science books
Song: "Women are Smarter Than Men," by the Grateful Dead
Food: Italian
Sport to watch: Supercross/Motocross
Vacation spot: Warm and sunny, those are the requirements
Movie: "The Emperor's New Groove"
Magazine: Transworld Motocross