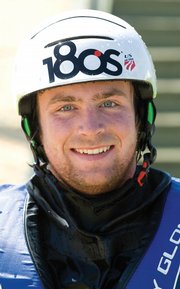 Steamboat Springs — To think, Patrick Deneen was almost not even here.
The reigning freestyle moguls World Champion once thought about giving the sport up. He was at a crossroads during the 2004-05 season after he tore up a knee and lost his spot on the U.S. Freestyle Ski Team. But Deneen, 21, has used the past two years to go from afterthought to potential favorite at the 2010 Winter Olympic Games in Vancouver, B.C.
Last season, Deneen won the World Championships in Japan - the year before he was named freestyle Rookie of the Year.
That rapid ascent has many believing Deneen's biggest moments are still to come.
Still, the skier from the small town of Cle Elum, Wash., remains modest in his predictions and expectations.
"I wouldn't say I'm the favorite," Deneen said. "But winning the World Championships was a big confidence boost. I was skiing really well, but every competition something small would happen. Now I know at the big competition, I can put everything together."
Deneen has started to put everything together for the 2009-10 season. He, along with several other U.S. Ski Team members, trained in Steamboat Springs on Friday, Saturday and today during a U.S. freestyle team camp at the Bald Eagle Lake water ramps.
The camp served as a quasi-kickoff to the season.
"We're really working basic techniques," said Scott Rawles, the U.S. team's mogul coach. "We're not pushing harder jumps. It's the safest environment we can train on. Between trampoline and the water ramps, we can get a lot out of it."
For Deneen and the others, the camp also served as a reminder that the Olympics are nine short months away.
Deneen said although it's an Olympic year, he tries not to think about results that much. Although only four women and four men will earn Olympic berths, Deneen said the key is to try to train the same.
"A lot of people think about it," Deneen said. "I don't. I really just want to be best skier I can. I want to be the best every year. Why would I change stuff if it's an Olympic year? I am tweaking training routines, but I do that every year. Every year, I'm training to be the best."
Given what Deneen has been through, it's easy to believe him. After he tore up his knee, he spent two years off the team trying to get back his form.
He admits there were times he wanted to quit and focus his attributes on something else.
"It was a really hard decision to continue skiing," he said. "I was at a point where I felt like I was as good as all the World Cup skiers, but I couldn't get the results. It was a tough decision to keep going because you're putting your entire life on hold to do this."
But three years ago, at the U.S. Selections event, Deneen put together two solid days of skiing that qualified him for a World Cup event in Lake Placid, N.Y.
There, he went from the lowest guy on the U.S. Ski Team straight to the A team.
"I podiumed twice within 24 hours," he said. "That was pretty cool. I've been skiing World Cups ever since."
Now, the focus turns back to the upcoming year for Deneen and the rest of the U.S. Freestyle Ski Team.
In addition to camps at Bald Eagle Lake, the team will ski at Arapahoe Basin the upcoming week before having a busy summer schedule.
All the while, the search for the elite eight that will make the 2010 Games already has began.
"Obviously we're judged on producing medals," Rawles said. "Whether you're in business, you're out there to produce the best results you can. So in terms of goals, yeah, I want it all. But I have to be realistic to go, 'There's a lot of good competition and skiers.' But I have confidence in my team. It's going to be an exciting nine months coming up."