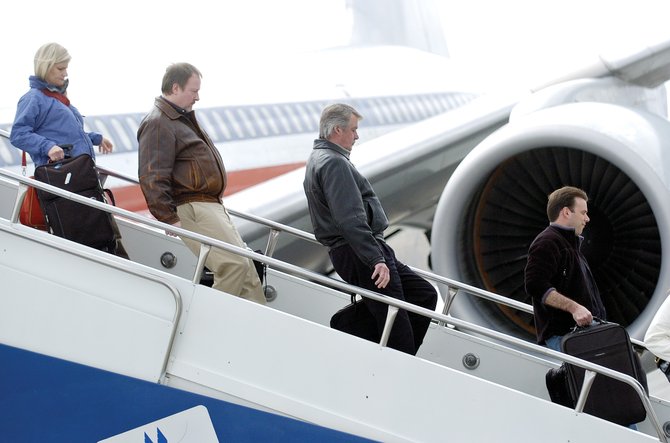 Andy Wirth returns Monday
Ski Corp. official to focus on air program, marketing
The airline program, the Winter Olympics and marketing efforts make up some of the largest blips on Andy Wirth's radar these days.
The Steamboat executive turned Intrawest executive turned Steamboat executive officially takes his role back at Steamboat Ski and Resort Corp. on Monday. Wirth is returning as senior vice president of marketing after spending about a year as chief marketing officer for Intrawest, Ski Corp.'s parent company.
Wirth has kept an office in Steamboat Springs but has worked mostly from Vancouver, B.C.
"It would be fair to say that while I've been in touch, I've obviously been away," Wirth said.
He takes the spot from Rob Perlman, who will move to the Winter Park resort, which Intrawest manages. Wirth praised Perlman's work as the head of marketing and said he has helped with the transition.
"I'm first and foremost focused on the transition back into the organization," Wirth said. "Thankfully, a very warm welcome has been conveyed, and I've already been working diligently the past two, three weeks on getting up to speed."
Ski Corp. President Chris Diamond said he didn't expect any hitches.
"Because of his role as the senior marketing guy, he's known where we are with our business plan," Diamond said. "So there's not a lot of change to what we would have been doing with Rob here. : The transition will go unnoticed."
One of Wirth's longtime priorities, the air service program at Yampa Valley Regional Airport, remains at the top of his list of concerns.
"I am fully aware and engaged in the completion of the '09-10 air program," he said.
Ski Corp. expects ski season flights to be set and loaded in the next three weeks - by the end of June at the latest, Wirth said. The ski resort hopes to talk to Frontier Airlines, which arrived for the first time last year, about its capacity. Frontier isn't part of the guaranteed revenue program.
The air program helps with the retention of repeat visitors to Steamboat, Wirth said.
"This upcoming ski season, we've made the statement, and we firmly believe it's all about retention," he said. "While we have this great customer base, we have to work very hard to get them to come back to Steamboat."
Wirth also expressed excitement about the potential effects of the 2010 Winter Olympics in Vancouver. Those events could bring attention to Steamboat's Olympic heritage, the resort and winter sports, he said.
"We're very excited about the prospect of hosting not one but two Winter Olympic trials in Steamboat," Wirth said.
He said he expects to find out in the next two or three weeks whether Steamboat will host trials.
Changes at the mountain also will generate positive buzz for the city and the resort, Wirth said. Construction of a Burgess Creek diversion and a plaza near the Steamboat Ski Area base is scheduled to begin Aug. 3.
"We're in an environment that is not replete with new product or new capital improvement investments, so we're once again going to stand out among the crowd," Wirth said.
He's also looking forward to working closely with the Steamboat Springs Winter Sports Club. Wirth is president of the club's board of directors.
And, of course, he's happy to have more time in Steamboat with his two sons and daughter.
Wirth said he'd be "absolutely relishing every moment being home in Steamboat. That's easy to do."