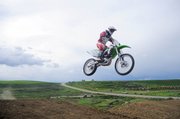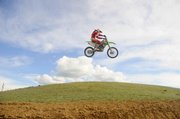 Steamboat Springs — Mike Andrews can remember sitting at the Hayden Speedway looking across Routt Country Road 53 and thinking about the possibilities.
Andrews, a motocross enthusiast, had heard about previous plans to open up a motocross track and wondered why they had failed.
So Andrews decided to see what it would take.
One call to Hayden Town Manager Russ Martin and Andrews knew what he had to do.
"I asked him, 'What's it going to take to get that going again,'" Andrews said. "He explained what needed to happen about two years ago."
Now, the thoughtful dreams of Andrews are a reality.
The Stokes Gulch Motocross Track officially opens Monday. It will be open from sun up to sun down, seven days a week, across from the Hayden Speedway.
Membership costs $50 per rider or $110 for a family. All memberships can be purchased at the Hayden Town Hall.
The facility is on seven acres and features a regular motocross track for adults and a smaller one for children.
"There are jumps, turns and there are some spots that can be added to as far as obstacles," said Andrews, a main organizer of the track.
Andrews said the track is self-sustaining, meaning members will be asked to do a lot of the maintenance on the course. Now that the track is about to open, Andrews said, the next phase is figuring out a water system.
"It's the YouTube of motocross," Andrews said. "We've got a place to do it, but we need people to do it to keep it running."
When people buy a membership, they'll receive a combination to get them into the gate. No more than 10 riders can be on the track at a time, and the parking lot can fit only 15 cars. Track use is on a first come, first serve basis, Andrews said.
Andrews said the project was a group effort, with multiple companies donating time and labor to finally get the track together. He said in addition to the town of Hayden making the land available, he estimated more than $40,000 worth of donations from the community were put into the project.
"I was a bit surprised how big the project has become," Andrews said. "I knew there would be a lot involved and I've learned a lot along the way. I've worked with so many people and had a ton of help. I want to thank all the people that put time and money into the place to get it finished."