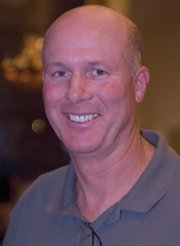 Steamboat Springs — City Manager Jon Roberts has been moved out of an intensive care unit and his condition has improved from "serious" to "fair" at Loma Linda University Medical Center in California.
Roberts was seriously injured in a Memorial Day weekend skydiving accident near Perris, Calif. Reached by telephone in his hospital room Thursday, Roberts described the accident that concluded with his successfully dodging a 30-foot building, only to get tangled in TV antennae on top of it.
"At that point," Roberts said, "I dropped."
Roberts and his son were participating in a formation skydive with six other people Saturday.
"Everything went fine, actually. It was a good jump," Roberts said. "We were all falling in formation, very stable. I can't really say there was anything wrong with the jump at all."
In preparation for the deployment of their parachutes, Roberts said he and the other skydivers broke away from the formation and began "tracking away from center."
"I went to reach for my rip cord, and I could not find it," Roberts said.
Roberts said the rip cord is "like a hacky sack that sits on your right rear buttocks in a pocket." Roberts reached a second time, and again, could not locate the rip cord.
"I reached up a third time, and I mean I really looked for that rip cord, and I knew that was going to be my third and final try," said Roberts, who explained that skydivers are taught to deploy their reserve parachute after three unsuccessful attempts to deploy their main parachute. "I could not find that rip cord."
Roberts then attempted to deploy his reserve parachute, located high on his chest. He couldn't locate that rip cord, either. Roberts said the reserve parachute eventually deployed, but he's not sure whether it was because he pulled the rip cord or because an automatic mechanism fired and released the parachute.
"So the chute fired, got a good opening. I reached up and released my steering toggles and unfortunately as soon as it opened there was about a 30-foot building directly in front of me," Roberts said.
He said he pulled a hard right on his steering toggles, lifted his legs, and cleared the building - but not TV antennae on top of it.
"I went through the TV antennae and that caught my chute."
Roberts said he was turned around backward and his parachute collapsed.
The firefighters who responded to the scene told Roberts he fell about 30 feet. He landed on his back.
"I'm not sure what I landed on. That's what I'll need to find out. There was some debris back there," Roberts said. "I took a pretty good shot to the chest and back, and so I am sore."
Roberts injured his thoracic aorta, which is a segment of the aorta - the largest blood vessel in the body that is connected to the heart and delivers oxygenated blood to all parts of the body. According to Trauma.org, the aorta "is at greatest risk from the shearing forces of sudden deceleration," and thus, at risk in falls from heights, car crashes and other severe impacts.
"Up to 15 percent of all deaths following motor vehicle collisions are due to injury to the thoracic aorta," an article on trauma.org states. "Many of these patients are dead at scene from complete aortic transection."
"Apparently, I tore the aorta coming out of my heart. That's as much as I know. They had to go in and stitch up the tear in the aorta. That sounds pretty bad to me, but here at Loma Linda, they didn't seem to act like it's the end of the world," Roberts said. "Loma Linda is top-notch. It's as good as it gets."
Roberts said he was conscious throughout his entire accident, which he described as an experience of "lots of feelings and emotions in a very short period of time."
"I was definitely focused on what I was trying to do, and I was getting aggravated at one point. It wasn't making any sense," Roberts said. "At one point I began to think, 'Wow, this is really going to happen,' and then right about then (the reserve parachute) fired, which is a really good feeling. : What frustrates me is why I had so much difficulty finding the reserve chute. That's what frustrates me. I'll just have to try that rig on and see what's going on."
Practice dive OK
Earlier Saturday, Roberts and his son had participated in a "recurrency dive," a refresher dive with an instructor for skydivers who are experienced but have not jumped in 30 days or more.
Roberts said he was using a different piece of equipment than he is not used to and that the rip cord for his main parachute was sitting higher than normal. Roberts said he had trouble reaching the rip cord on the first of three practice touches, but not on the other two. After the jump, Roberts said he was debriefed by his instructor, who said she noticed Roberts dipping his hip and right knee in an effort to more easily reach his rip cord. The instructor didn't think it was a big deal, Roberts said, and gave him the go-ahead to jump on his own.
Hopes to dive again
While he complained of soreness and was obviously tired and short of breath while describing the accident Thursday, Roberts was also optimistic and cracked a few jokes. He said his doctors expect him to make a full recovery. He stood up on his own for the first time yesterday, expects to be walking soon and was recently taken off a liquid-only diet.
"I just need to stretch, exercise and build myself back up," he said.
Roberts said his doctors have given him no timeline for his recovery.
"Let everyone know I'm doing fine," Roberts said. "I certainly appreciate the thoughts and prayers, and I'm eager to get back home and get back to work."
Roberts' accident is being investigated by the school he jumped with, Perris Valley Skydiving, and the Federal Aviation Administration.
"We'll certainly want to take a look at the parachute and talk to the people who rigged it, and then we'll go from there," said Ian Gregor, FAA Western-Pacific Region spokesman.
No updates were available from Dan Brodsky-Chenfeld, general manager of Perris Valley Skydiving.
"I hope I don't let this discourage me from going again," Roberts said of skydiving. "I'm not going to say it's a safe sport, but it's a well-designed system with back-up systems. Several things went wrong, but I still - I don't know if I walked away from it - but I hope I do (dive again). Obviously, fear is one of the components, and so I'll have to evaluate that. It is certainly my plan and my hope that I skydive again."
To reach Brandon Gee, call 871-4210 or e-mail bgee@steamboatpilot.com