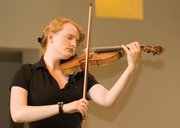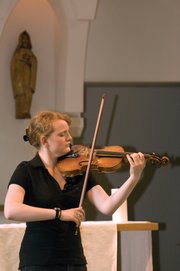 If you go
What: Anna Roder senior recital, classical violin
When: 7 p.m. today
Where: St. Paul's Episcopal Church, corner of Ninth and Oak streets
Cost: Free
Call: Teresa at 846-5239
Concert program: Mozart Violin Concerto No. 5 in A Major; "Chaconne" from Bach Partita for solo violin No. 2; and Wieniawski Scherzo-Tarantella
Steamboat Springs — The day after her senior violin recital, Anna Roder will catch a plane to Europe to spend two weeks with family. Then, she'll head back to Steamboat Springs for one day before she leaves for music school, which she's starting eight weeks early.
It's a bit of a whirlwind, but the schedule fits well with the professional musician's life Roder hopes to one day have.
"In an ideal world? I'd love to become a soloist who gets to travel around and play with different orchestras and go on recital tours," Roder said, painting her perfect image of life after music school. Realistically, Roder wants to perform professionally in any orchestra or string quartet where she'd be happy.
"It's why I've kept playing the violin. I used to hate practicing, but I practiced because I like to perform," she said. Roder will indulge that love of performance at 7 p.m. today, in a senior classical violin recital at St. Paul's Episcopal Church.
After spending almost every weekend for three months this winter traveling to auditions at music schools across the country, Roder chose to pursue violin at Indiana University's Jacobs School of Music in the fall.
In the two months before classes start, Roder is planning to spend most of her time studying with a new violin teacher, playing with a festival orchestra and hitting the practice rooms.
"I'm looking forward to being around the music people and being around that atmosphere all the time," Roder said. "I think hearing those people will really inspire me to practice and get better."
Since moving to Steamboat Springs in March 2001, Roder has taken eight years of violin lessons with Teresa Steffen Greenlee; performed as an orchestra member and concerto soloist with the Steamboat Springs Orchestra; attended Rocky Mountain Summer Conservatory; sat as concertmaster for the Denver Young Artists Orchestra; studied at Meadowmount School of Music in Westport, N.Y.; and played in Colorado all-state and Western States Honors orchestras.
On May 15, Roder joined professional piano recitalist Alpin Hong at the Strings Music Pavilion for a performance of Henryk Wieniawski's Scherzo-Tarantella. The piece is one of three on her senior recital program; a Mozart violin concerto and a Bach piece fill out the concert, which Roder said she hopes is well attended.
"I imagine that I'll play in Steamboat again, but I'm not sure when," she said.
- To reach Margaret Hair, call 871-4204 or e-mail mhair@steamboatpilot.com