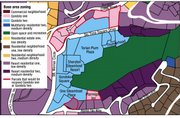 By the numbers
Proposed changes to allowable height at the base of the Steamboat Ski Area
Zone, Current, Proposed
RR-2, 67 feet, 75 feet
G-1, 57 feet, 75 feet
G-2, 67 feet, 105 feet
Source: Steamboat Springs Planning Department
Document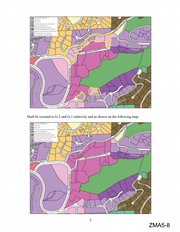 If you go
What: Steamboat Springs Planning Commission meeting
When: 5 p.m. Thursday
Where: Centennial Hall, 124 10th St.
Call: City planning offices at 871-8258 for more information
Agenda
5 p.m. Development plans to construct a gondola from Wildhorse Meadows to the Gondola Transit Center; Amendments to base area zoning, dimensional standards and required public benefits
6 p.m. Steamboat 700 annexation review
Steamboat Springs — The highest allowable height at the base of Steamboat Ski Area would increase from 67 feet to 105 feet under proposed changes to be considered by the Steamboat Springs Planning Commission today.
In practice, developments of about that height already have been built or approved at the base area through the city's planned unit development process. Through the PUD process, the city negotiates public benefits such as affordable housing and green building practices in exchange for increased height and other requested code variances.
"This process has created widespread frustration by drawing out the development review and removing predictability," a city news release states.
In addition to changes to allowable height and other dimensional standards, the proposed amendments to be considered today also would require developers to make an additional contribution to the city's urban renewal authority at the base area and have their projects certified by a green building program, such as the U.S. Green Building Council's Leadership in Energy and Environmental Design program. The rezoning of 12 base area parcels also is proposed.
The base area PUD process would be eliminated - and the city is proposing that no further height variances be allowed - if the proposed amendments are adopted.
"We're kind of excited about making this process more predictable," city planner Seth Lorson said Wednesday. "I think it's also exciting that we're requiring some sort of green building certification, which is a really nice sliver lining to this."
When the Steamboat Springs City Council was reviewing the planned Thunderhead project, City Council President Loui Antonucci said current height limitations at the base area were set artificially low with the expectation that developers would propose taller buildings.
While that has allowed the city to demand public benefits because of the requested variances, Antonucci said the lack of clear standards is problematic.
"They left it so (subjective) that it just makes it difficult for everybody - staff, neighboring property owners," he said in February. "It's just a nightmare."
Others, however, oppose the changes and would rather see the city hold firm to its current height limitations.
"By up-zoning essentially all of Ski Time Square and raising the overall allowable height, Ptarmigan House believes you will effectively be inviting a high-rise, canyon-like effect all along the base area," John Clark, president of Ptarmigan House Condominium Association, wrote in a letter to Planning Commission. "Ptarmigan House believes this will detract from the base area experience."
The Ptarmigan parcel on the south side of base area - which has been proposed for redevelopment - is one of the 12 parcels for which a rezone is being proposed. Nearly all of the others are on the north side of Ski Time Square Drive. All of the proposed rezones would allow for higher-intensity development.
Clark also opposes rezoning the Ptarmigan parcel in his letter and notes that the city's current future land-use map suggests the parcel should be down-zoned, if anything. The city is proposing amendments to the future land-use map consistent with its proposed zoning changes and notes that because the Ptarmigan parcel is adjacent to a planned promenade around the ski base, the zoning change is appropriate "to encourage denser resort-level development in areas recognized to complement a first-class ski area."
For more information about today's Planning Commission meeting, contact Lorson at slorson@steamboatsprings.net or 871-8280.