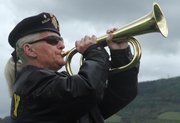 The sky was overcast. Rain fell from gray clouds. But the weather didn't dampen the significance of Monday's Memorial Day ceremony.
Many in attendance donned hoods or took out umbrellas in an attempt to stay dry while paying tribute to those who served in past wars. In all, about 200 people attended the event at Steamboat Springs Cemetery, put on by Veterans of Foreign Wars Post No. 4264 and American Legion Post No. 44.
"I feel it's everybody's responsibility to honor and respect the ones who have fallen for our freedom," retired Marines Master Sgt. David Hill, who served in Desert Storm, said about attending the ceremony. "I have a lot of friends who didn't make it back. It's my way of honoring their service to our country."
Steamboat Resident Marti Hamilton shared a similar sentiment, having grown up in a military family.
"My husband is a vet; my father and brother are vets," said Hamilton, whose husband, Kirk, served for the Army Airborne Division in Vietnam. "It seems right. I was just raised to respect people in the military and what they do. It seems an appropriate way to honor them."
The event began with the singing of "The Star-Spangled Banner" by 11-year-old Andrea Clark, who attends Christian Heritage School. Her performance was followed by the singing of "America the Beautiful," by Paul Draper and Maureen Hogue, who also played guitar. The flag then was lowered to half-mast, to honor the fallen.
Organizers of the event provided background Monday about Memorial Day's origin. President Lyndon Johnson in 1966 named Waterloo, N.Y., the place where Civil War veterans first were honored in 1866, and the location became the holiday's official home. During that time, the holiday was called Decoration Day because of the flags, flowers and mementos placed on veterans' graves and wasn't changed to Memorial Day until 1967, event organizers said.
This year's local ceremony also featured a new tactic to honor some of the 265 veterans buried at Steamboat Springs Cemetery.
"We try to do something different every year," said U.S. Army veteran and event organizer Jim Stanko. "We just thought it was important to recognize some people who came to Steamboat and really made a contribution and really needed to be recognized."
Bob Printy, commander of American Legion Post No. 44, read off the names of veterans from six past wars who returned to Steamboat and had significant impacts on the community.
They included:
- Charles C. Graham, a veteran of the Civil War, who returned to Steamboat and served as a member of the Populist party in the Colorado Senate.
- Claude A. Luekens, a veteran of World War I, who owned a Chrysler-Plymouth dealership in Steamboat, one of the first in the state, and also was a Routt County commissioner for 21 years and the city's mayor for 19. He also was instrumental in the development of the Old Town Hot Springs and the paving of Lincoln Avenue.
- Don Brookshire, a veteran of World War II, who worked for the Steamboat Ski and Resort Corp. for 20 years, served three terms on the city council and always helped with local Fourth of July festivities.
- Carl Ramunno, a veteran of the Korean War, who taught industrial arts and woodshop, and coached a legendary wrestling program at Steamboat Springs High School.
- James Chew, a veteran of the Vietnam War, who returned to join the Steamboat Springs Police Department. Two years later, and a month after getting married, he was shot and killed by an escaped convict during a traffic stop. Chew still is the only Steamboat officer killed in the line of duty.
- Greg Kyprios, a veteran of Desert Storm, who opened a high-tech aerospace consulting firm in Steamboat before his Oct. 2005 death when his plane crashed on Rabbit Ears Pass.
"We were trying to show what they picked up in their military careers carries over to making a better community," Stanko said. "They had a real impact."
The event concluded with the placing of a wreath on the cemetery's memorial, a firing party discharging three shots in unison and a bugler's rendition of "Taps."
Many of the veterans who attended shared stories of how the event was significant to them.
Wayne Ehle, who fought in the Army during Battle of the Bulge in World War II, and Doug Werner, an Army veteran of Vietnam, the ceremony held special significance because members of their families, both veterans and non-veterans, were buried at Steamboat Springs Cemetery.
For Tony Weiss, commander of the VFW Post No. 4264 and an Army veteran of Desert Storm, it was a lifelong tradition to honor those who had made the "supreme sacrifice," by placing flags on graves with his family since he was a child.
But for some, honoring those who gave their lives to defend American freedoms isn't confined to a single ceremony.
"Every day is Memorial Day for us," said Ty Upson, who served two tours with the U.S. Marines during the Iraq war. "This is just the one that's recognized."