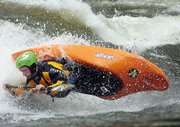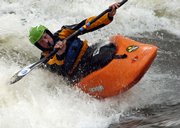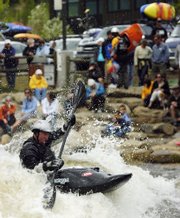 Fish Creek race
Men
1. Andrew Holcombe, 2:46.41
2. Sam Sutton, 2:49.00
3. Jared Seiler, 2:52.63
4. Dave Fusilli, 2:58.12
5. Nick Troutman, 2:59.13
6. Stephen Wright, 3:00.81
7. Ken Hoeve, 3:02.28
8. Bradle Lauder, 3:02.44
9. Kelsey Thompson, 3:02.88
10. Jeremy Laucks, 3:04.53
11. Corey Volt, 3:05.90
12. Dan Piano, 3:07.62
13. Kyle Hull, 3:10.82
14. Stephen Forster, 3:20.50
Women
1. Tanya Faux, 2:57.16
2. Nikki Kelly, 2:59.97
3. Emily Jackson, 3:14.57
4. Ruth Gordon, 3:21.50
5. Sarah Hamilton, DNF
Overall
Men
1. Nick Troutman
2. Andrew Holcombe
3. Stephen Wright
Women
1. Tanya Faux
2. Emily Jackson
3. Nikki Kelly
Freestyle results
Men
1. Nick Troutman
2. Stephen Wright
3. Corey Volt
4. Dave Fusilli
5. Kyle Hull
6. Jared Seiler
7. Dan Piano
8. Kelsey Thompson
9. Bradle Lauder
10. Jeremy Laucks
11. Sam Sutton
12. Stephen Forster
Women
1. Tanya Faux
2. Emily Jackson
3. Devon Barker
4. Ruth Gordon
5. Sarah Hamilton
6. Nikki Kelly
For a few moments, the announcers at Monday's Paddling Life Pro Invitational pretended they wouldn't reveal the winner of the women's portion of the competition.
The ruse didn't last long.
"Come on," the loudspeaker blared. "We won't tell you, but just do the math."
The numbers made things pretty simple. Again. It already had been revealed that Australian Tanya Faux won the morning's Fish Creek race and the afternoon's freestyle competition in Charlie's Hole. It added up to the fourth overall victory for Faux in the fourth-annual event.
"Maybe when I find a gray hair, I'll start watching," she said, considering when she might let someone else win the event. "But I haven't got any yet."
Until then, Faux said fans and competitors can expect her to remain the queen of Steamboat's premier kayaking competition.
Nick Troutman, meanwhile, got his own streak started by winning the men's event. The 20-year-old Canadian tied for last year's championship, but he managed to claim it outright this year thanks to a championship in the freestyle portion of the two-stage competition.
"This was different than previous years," Faux said. "The water is really high, and it made for quite a few new challenges."
This year's event coincided seemingly perfectly with the high-water mark of the Yampa, and that defined the day's competition.
The morning's race down Fish Creek bore little resemblance to last year's as the 19-boater field tore down a fully charged creek. Boulders have been the main obstacles in years past, and bottoming out was a regular occurrence.
Not Monday.
"It was way more challenging," event organizer Eugene Buchanan said. "It is the real-deal whitewater up there now. When you get that much water, it's like a real Class 5 river."
Andrew Holcombe, who tied with Troutman to claim last year's championship, won the men's Fish Creek race, finishing in 2:46.41.
Holcombe's creek speed helped him to a second-place overall finish.
Faux won the women's side of the race, finishing the bubbly whitewater run in 2 minutes, 57.16 seconds.
"It was harder to go fast but in a different way," said Faux, who won the women's race last year, as well. "Last year, it was hard because you had to stay off rocks. This year, it was hard because you didn't want to punch through too many holes and end up with too much water on your chest."
High water also defined the afternoon freestyle competition at Charlie's Hole.
Faux again dominated the women's competition, topping Emily Jackson and Devon Barker in the finals.
Troutman bested Stephen Wright, Corey Volt, Dave Fusilli and Kyle Hull in the finals.
The last rides were all whirling, twirling trick-filled trips in the rushing water of the downtown Steamboat feature.
"Growing up on the Ottawa up in Canada, we have waves similar to this, so I grew up doing a lot of the moves I was doing today," Troutman said.
He wrapped up the overall championship only after out-dueling Wright. Both had crowd-pleasing, technical runs in the finals.
"I was just trying to go as fast as I could and get as much variety as I could," Troutman said. "It's tough with the higher elevation. I'm not quite used to it, but I knew if I wanted to take it home I had to give it all I had."