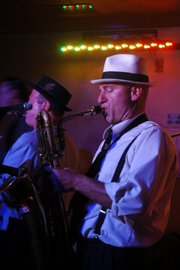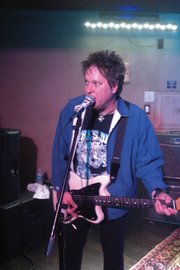 Steamboat Springs — Blues-laden soul, punk and early rock 'n' roll were among the styles covered in Ghost Ranch Saloon's opening weekend, with sets from The Informants, Tony Furtado, Agent Orange, the Amputators and Missed the Boat.
On Friday, the new music venue - which holds just less than 400 people and has national and regional acts on its schedule through the end of August - introduced itself to Steamboat Springs with a set from Denver-based party band The Informants.
Opening the night with "Back at the Chicken Shack," the act proved it's hard to go wrong starting the night with a Jimmy Smith tune. From the outset The Informants had an all-customers-will-be-served energy that carried the band, and a packed house at Ghost Ranch, through several sets of classic rock, soul and dance music. Informants frontwoman Kerry Pastine led the group with swaggering style, belting through every song. With Jonny Love on baritone sax and Kenny Plum on tenor through much of the set, The Informants charged through classic songs with one of the more powerful horn sections around.
On Sunday, Steamboat Springs rock band the Amputators took the stage as the opening act for first wave West Coast punk headliner Agent Orange, and ripped through a set of original songs for a crowd that seemed as excited to see the hometown act as it was the main show. In the two years or so the band has been together, the Amputators have honed a hard rock sound that's immeasurably deepened by classic rock 'n' roll touches, including frequent and feverish bouts of harmonica from frontman Keith Thibodeau.
Agent Orange - a power trio since the band formed almost 30 years ago - drove through a high energy set, propelled by solid bass lines and a surf rock vibe that hasn't gotten old. The show gave Ghost Ranch a chance to test its all-kinds-accepted band booking theory, pulling in a house that was fittingly thrashing but wasn't too tightly packed.