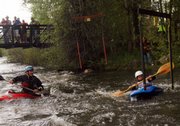 Steamboat Springs — Barry Smith has paddled a kayak in each of the Yampa River Festival kayak slalom competition's 29 years.
Luke Farney won the event this year, though, and Steve "Lewi" Lewis made a nearly perfect run through the rapids in a canoe at least twice the size of - and many times heavier than - the sleek kayaks most others captained.
Kai Franken didn't make it through all the gates, but the 7-year-old Steamboat Springs boater definitely stole the show.
"I really like to paddle," Kai said. "The winners get a T-shirt, so I wanted to win. I thought if I went high enough, I could get all the gates."
Rick Franken said the main thing that can go wrong is his son can get scared and lose his nerve.
There didn't seem to be any danger of that Sunday. Far and away the youngest competitor in the Yampa River Festival's kayaking slalom event, Kai made his way through the gates and down Fish Creek with a steely look of concentration on his face.
He swung through two of the gates on his first trip, and when he made it through three on his second - narrowly missing several others - the crowd gathered on the bridge over the creek erupted.
"He's figured it out," Rick Franken said. "This year, he got his roll down. I've been working with him on it and he has really started snapping through them. That's given him a lot of confidence and he's a lot less intimidated by the water."
There was no shortage of competitors eager to take on Sunday's roaring water, and a change in the annual event made it possible for them all to get plenty of opportunities.
"This was fun because we shortened up the course," Smith said. "It was still very tough, but you could run up back to the start and it wouldn't take so long."
Many competitors took their cracks at racing in two-person boats. Almost all also opted to make solo runs, as well.
The challenge proved entirely different than the Charlie's Hole rodeo local boaters tackled the day before. As much was obvious when Saturday's rodeo champion, Dan Piano, couldn't make it two-for-two in the river festival.
Farney instead blew through the course in 1 minute, 14 seconds, cutting through the down-water gates and fighting his way back upstream to catch the up-water gates.
"It was a fun event," said Farney, who plans to travel later in the summer for the kayaking Junior Olympics. "It was shorter than I'm used to, but it was fun."
Competitors were assessed a 50-second penalty for every gate they missed and 2 seconds for every gate they touched.
Farney managed just one 2-second penalty. Lewis, meanwhile, said he realized making the run down the 150-yard course in a canoe almost was impossible without accruing penalty time.
Years ago, he was a regular at the springtime river event, Lewis said, but he hasn't competed in the slalom as much recently.
He first started canoeing about seven years ago.
"The canoe is kind of like telemarking is to skiing," he said. "I have been kayaking for 30 years, so canoeing is a new challenge.
"You're going to hit all the gates so finesse doesn't matter as much. It's just a different approach, and it's really fun."
- To reach Joel Reichenberger, call 871-4253 or e-mail jreichenberger@steamboatpilot.com