Steamboat Homefinder
Visit SteamboatHomefinder.com for more real estate news.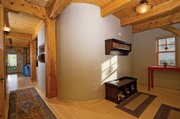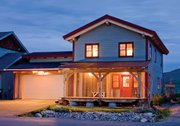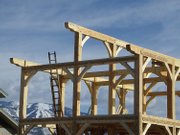 Steamboat Springs — The thousands of acres of dying evergreen trees in Northwest Colorado represent a tremendous timber resource, but let's face it: Lodgepole pine doesn't always get the respect it deserves.
To understand how beautiful beetle-killed lodgepole can be in a family home, all one needs do to is tour Steve and Currie Meyer's timber-frame home at 2755 Abbey Road in West End Village. Steve Meyer, the owner of ScribeLine Timber Works, was just putting the finishing touches on his family's new timber-frame home this winter when Currie accepted a position managing a branch library in Fort Collins.
Now, the Meyers' 2,640-square-foot home is on the market for $639,000. Listing Realtor Charlie Dresen, of Prudential Steamboat Realty, said the home's features include 3-plus bedrooms, 3.5 baths and an unusually deep garage. Even the garage reflects Meyer's timber-frame craftsmanship with its shaped posts and beams and pegged joinery.
Meyer purchased a load of lodgepole logs from a timber operation on the Henderson Mine off Colorado Highway 9 between Kremmling and Silverthorne.
"We brought Joe Bonn's portable band saw to the site to mill the pile of logs," Meyer said.
He used the heavy timbers to build his new home to a 300-year standard. And by using local timber, he reduced the carbon footprint of his home, adding to its green-built qualities. They include energy-efficient sheathing and renewable bamboo flooring.
The result is a family home with a level of craftsmanship you wouldn't always see in one of Steamboat's best neighborhoods for working families.
"If Steve hadn't built it, not many people would build a timber-frame home of this size in this neighborhood," Dresen said. "This home has so much style. In second homes twice this size, you see this kind of craftsmanship all the time, but not in homes of this size."
District Forester John Twitchell, of the Colorado State Forest Service in Steamboat Springs, is trying to encourage the use of beetle-killed lodgepole in homebuilding. He said timber-frame construction is well-suited because the production of large posts and beams makes it easier to work around the cracks that appear in timber that has dried on the stump.
"A lot of people maligned lodgepole even before the beetle epidemic, but lodgepole is the strongest Western pine there is," Twitchell said.
A report just released by the State Forest Service cites lodgepole as frequently being the timber of choice locally for timber-frame and other forms of post and beam construction. Further, it concludes that the "blue stain" appearance (evidence of an old fungal growth) that gives beetle-killed timber some of its beauty and character, has no impact on the structural integrity of the wood.
Timber frame is a style of construction involving a frame made of stout posts and beams rather than the light frame of most stick-built construction, according to the Timber Framers Guild. Typically, in a timber-frame home, the skeleton of the structure is exposed to plain view. Meyer's passion for his work is evident by the fact that he leaves the ends of his pegs protruding from the posts and beams, an effect timber framers refer to as "left proud."
One of the nicest touches in the Meyer home is in the foyer and doesn't have anything to do with the timber-frame style of construction. A curved interior wall, complete with matching baseboard made of laminated pine, sets an artistic tone.
The great room is spacious enough to accommodate a kitchen office and an art table for youngsters in one corner.
Every door in the home is solid wood, one children's bedroom has a mini loft, and the master bedroom has its own deck overlooking Orton Meadows on the northwest flank of Emerald Mountain.