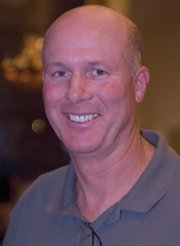 Steamboat Springs — Steamboat Springs City Manager Jon Roberts was hurt in a skydiving accident Saturday near Perris, Calif. He was listed in serious condition Sunday night at Loma Linda University Medical Center in Loma Linda, Calif.
Roberts' main parachute failed to open during a skydive Saturday, and his emergency chute didn't open until he was near the ground, said Rotary Club of Steamboat Springs President Mike Forney. Roberts is a Rotarian, and Forney said he spoke with Jon's wife, LeAnn, Sunday evening.
No additional information about Roberts' injuries was available Sunday night.
Roberts began serving as Steamboat's top administrator in February, after serving in the same position for the city of Victorville, Calif. He previously told the Steamboat Pilot & Today and At Home in Steamboat Springs magazine about his active lifestyle and passion for activities including hiking, scuba diving and skydiving.
In an interview in At Home magazine's April edition, Roberts described how skydiving helps him overcome his fear of heights.
"It's a different experience," he said. "There really isn't a sensation of falling when you're free falling. It's much more a sensation of flying. After the parachute opens and you're closer to the ground, I just work to overcome those feelings that I could fall. : Just through practice you start to build confidence to overcome the fear."