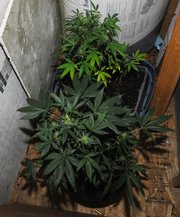 Routt County — A search of a home just east of Hayden along U.S. Highway 40 netted six marijuana plants, an undisclosed amount of cured marijuana and some suspicious chemicals and liquids Friday, Routt County Sheriff's Office investigators said.
No one was at the home when the search warrant was served at about 8:30 p.m. Thursday, and no arrests have been made, Sheriff's Office Investigator Mike Curzon said.
Curzon said the marijuana found in the home was not packaged in a way that would indicate it was prepared for distribution, and investigators are trying to figure out if the suspect has a medical marijuana license.
Curzon would not speculate as to whether he thought the liquids were used for methamphetamine production, but he confirmed that nothing thought to be processed meth was found.
The home is on a 5-acre property in the 14000 block of West U.S. Highway 40. Curzon said deputies think the suspect, whose name he would not release, is on a rafting trip. Curzon also said information from a separate case led them to obtaining the search warrant for the Hayden-area property.
After discovering the suspicious liquids Thursday, investigators called in a hazardous materials crew from the Colorado State Patrol to assist. Officers from the All Crimes Enforcement Team and Drug Enforcement Agency, and West Routt Fire Protection District firefighters also were involved in the investigation.
An environmental clean-up contractor arrived Friday evening to remove the liquids and potentially related items, including heavy-duty gloves, several canning jars filled with an unknown liquid, and a cooler and two jugs filled with a murky solution. Samples will be analyzed by the Colorado Bureau of Investigation.