Document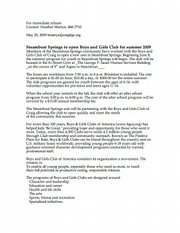 For more
The proposed Boys & Girls Club of Oak Creek fell through, and Oak Creek Town Board trustees voted at their last meeting to return as many donations as possible. Donations that cannot be returned - including cash or anonymous donations that are not claimed - will be remanded to the state.
To register for the Boys and Girls Club of Steamboat Springs, contact Heather Martyn at 846-7710 or hmartyn@craigbgc.org. The cost is $10 for the initial membership, and $1 per hour, $10 per day or $300 for the entire summer.
The Boys & Girls Clubs of America, a 139-year-old institution, will open a branch in Steamboat Springs next month, giving local students an alternative for summer activities and an after-school club during the school year.
After a year of planning, the club will take up residence in the George P. Sauer Human Services Center on Eighth Street, leasing the space from the Steamboat Springs School District.
The club will open for the summer June 8, unit director Heather Martyn said.
"I think every community needs a place for kids to feel a part of something, a positive, safe environment that can keep them safe and active," she said.
Martyn, along with two full-time staff members, will lead programs throughout the summer, including character, leadership, education and health programs. There also will be a field trip every day during the summer.
The Steamboat site will be a branch of the Craig club to cut start-up time and cost.
Mike Coffman, a Boys & Girls Club of America regional service director based in Richardson, Texas, said the group will bypass a number of obstacles by expanding the existing operation instead of starting a new club in Steamboat.
A standalone club would need a board of directors and an executive director, 501(C)(3) status, 100 documented interested children and other requirements set by the national Boys & Girls Club of America.
Martyn said only a small portion of the club's funding will come from the dues paid by students. Most revenues will be covered by local, state and federal grants.
Mary Brown, a Steamboat resident who led the planning during the past year, said a number of surveys distributed to Steamboat students and parents indicated there was a need for more programs in the city.
"We did a survey in the schools, and the survey responses were overwhelmingly supportive," she said. "The Boys & Girls Club is not a daycare. It is, in fact, a club, similar to YMCA. It's just an opportunity for kids to have a productive place to be instead of being at loose ends and instead of being unsupervised at home."
The club model also means that while students need to register beforehand, they do not need to sign up for each day they want to attend.
"It's for kids to come to one day a week or five days a week after school. We will have a computer lab and homework help during school, and during summer vacation, we'll have lots of activities for kids to drop in and hang out with their friends in a positive place," Brown said.
There is enough need in the community that the program is unlikely to overlap with other offerings, Martyn said.
"We don't want to duplicate any of the programs that are currently going on. We think the city program and the Ski Corp. program are terrific programs, but we feel that, because of the current economy, we have a lot of need for a lot of opportunities for our kids here," she said.
The school district will rent the gym on Eighth Street, along with two classrooms, to the club for the standard fee of $30,000 for the summer, with the option of renewing the contract for the school year, Superintendent Shalee Cunningham said.
"We're helping them in any way we can. We're welcoming them with open arms; it's very exciting for the community," she said.
The club is not affiliated with the school district other than the leased space, Cunningham said.
Interested parents should contact Martyn at 846-7710 or hmartyn@craigbgc.org. The $10 registration fee is due by the first day of activities.