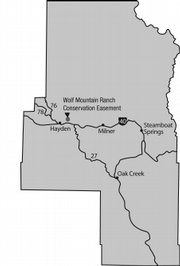 Steamboat Springs — A group of partners have joined forces to conserve more than 1,600 acres of working agriculture land and critical environmental habitat in West Routt County.
Aided by funds from the Colorado Division of Wildlife and Routt County's Purchase of Development Rights program, the land on Wolf Mountain Ranch will be placed under a conservation easement and permanently precluded from development. The land is near The Nature Conservancy's Carpenter Ranch, north of U.S. Highway 40 near Yampa Valley Regional Airport.
"It's thrilling, the statement it makes for Routt County - especially coming into Steamboat from the airport," said Claire Sollars, a member of the PDR advisory board.
The easement will support habitat for several at-risk species, including Columbia sharp-tailed grouse. It also is a key winter range for the second largest elk herd in the state. The Colorado Division of Wildlife is contributing more than $900,000 to the project.
"This property is not only a working cattle ranch, the landowner has taken great steps to improve wildlife habitat at every turn," DOW Area Wildlife Manager Jim Haskins said in a news release. "Beyond sharp-tailed grouse, this is important transition range for deer and elk, so getting these protections in place is a big win for wildlife."
The county PDR program is contributing more than $300,000. The program is funded by a 1.5-mill property tax approved in 2006, nine years after the program first was approved for a 10-year period. The 2006 renewal is good for 20 years.
"This is a tremendous conservation opportunity, and I am pleased that the Division of Wildlife and Routt County had the vision and dedication to make this happen," Geoff Blakeslee, Yampa River project director for The Nature Conservancy, said in a news release. "Without this partnership, we would not have been able to conserve these special natural areas for future generations of Coloradans to enjoy."
This most current conservation easement on Wolf Mountain Ranch joins two previous ones. Combined, the projects total more than 6,100 acres.
"There's a value in clustering these to some extent," Routt County Commissioner Doug Monger said.
When a landowner donates a conservation easement, they are permanently protecting the land from development. This reduces the value of the restricted land, but landowners' compensation isn't just the knowledge that the land will never be turned into a subdivision or shopping mall. There are significant tax breaks associated with the move, sometimes worth millions depending on the details of the easement.
Also, some entities - such as the PDR program - will compensate landowners for the land-value loss to encourage more people to enter into conservation easements.
The property's owners are contributing about 50 percent of the easement's value, which means they are not being reimbursed for about 50 percent of the property value lost by placing it in a conservation easement.
"It's phenomenal the contribution this particular owner has made," Sollars said.