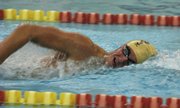 Going to the University of Denver to swim competitively could be one of the best things that has ever happened to Blake Worsley.
The Steamboat Springs native finished sixth in the 500-yard freestyle in the Colorado Swimming Championships his senior year of high school. Now, Worsley is the sixth-best 500-meter freestyle collegiate swimmer in the nation.
Worsley wrapped up a decorated career at DU by finishing sixth in the 500 free, ninth in the 200 free and 42nd in the 100 free at the 2009 NCAA Swimming Championships.
The sixth-place finish was the highest for a Denver swimmer at the NCAA Championships since the program turned Division I. Worsley now owns seven school records and was named an All-American this year. He was also named DU's Male Athlete of the Year.
"He had the talent, and I think we provided him with the program to maximize it," Pioneers swim coach Brian Schrader said. "More importantly, it was his attitude. He comes with a great attitude. It's rare to find that person with his ability and attitude. It's a perfect storm. He's just touching on his talent level."
Now Worsley, who helped lead DU to its first Sun Belt Conference Swimming and Diving Championship and was named the Conference's Men's Swimmer of the Year for the second straight year, has his sights set on making the Canadian World Championship Team.
Worsley, who holds dual citizenship, will travel to Canada in early July to compete in the Canadian World Championship trials.
He'll compete in the 50, 100, 200 and 400 freestyle events. He said his best shot at making the team is in the 400 and 200 free. The top two in each event qualify, and the top four make the relay team.
"The last four years have been great," Worsley said. "It's been a really good experience at DU. It shaped and molded me into a different type of athlete. It was a life-changing experience for me."
Worsley will continue to train and compete in meets around the country. Today, he's in Vancouver, B.C., for a swim meet.
He said he's happy with where he's at now in his training and said he again expects to swim his best times in the July competition.
Regardless, it's all just another step in his larger goal of competing one day in the Olympics.
"I had the dreams when I was younger to attend the Olympics," he said. "This is just another shot at that."