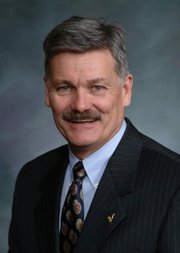 If you go
What: Town hall meeting with state Sen. Al White
When: 12:30 to 2 p.m. Wednesday
Where: Centennial Hall, 124 10th St.
Call: White at 303-886-2537 for more information
Steamboat Springs — State Sen. Al White, R-Hayden, will host a town hall meeting in Steamboat Springs on Wednesday to discuss the 2009 legislative session.
"It's just a legislative update for anybody that's interested," White said Monday. "It's an attempt to communicate with constituents and find out what's on their minds."
This year's session was one of White's most difficult. As one of six members of the Colorado General Assembly's Joint Budget Committee, he said he was on the front lines of some of the toughest work in the Legislature. He faced considerable criticism for some of his decisions, including his vote for the FASTER legislation that will increase vehicle registration fees to pay for transportation projects statewide.
White said he hopes to convince people that, "There's more logic than insanity to my method."
In addition to FASTER, White said he plans to discuss a repeal of the death penalty that narrowly failed and a bill that prohibits drivers from text messaging. That law, House Bill 1094, also prevents people younger than 18 from using their cell phones by any means while driving.
White expects to discuss Senate Bill 85, which would have phased out the state's business personal property tax but was softened to create only a task force to study the issue. White also plans to discuss the state's financial situation. Revenue projections for the fiscal year beginning July 1 required what White has called "distasteful" cuts. White said next year could be even more painful if revenues don't return.
"We pushed a lot of stuff out with one-time budget transfers," White said. "We've pulled all the rabbits out of our hat."
Also Wednesday, White and state Rep. Randy Baumgardner, R-Hot Sulphur Springs, will speak at a meeting of the Craig/Moffat Economic Development Partnership.
"We are focused on a business, in particular, legislative update," Director Darcy Trask said.
The event in Craig is from 3 to 5 p.m. Wednesday at the Moffat County Courthouse. Reservations can be made by calling the Craig/Moffat Economic Development Partnership at 826-2039.