If you go
What: Steamboat Springs City Council meeting
When: 4 p.m. today
Where: Centennial Hall, 124 10th St.
Call: City offices at 879-2060 for more information; call 871-7070 to listen live to City Council meetings
Document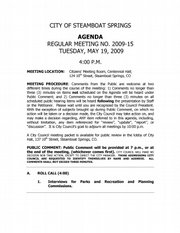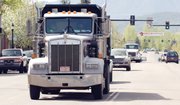 Agenda
- 4 p.m. Interviews for the Parks and Recreation and Planning commissions
- 5:30 p.m. Discussion of construction phasing for CDOT Lincoln Avenue pavement replacement; resolution expressing intent to provide matching funds and assurances for Transportation Equity Act for the 21st Century grant funds to construct a pedestrian bridge and trail connections in Steamboat Springs; resolution accepting the public water infrastructure constructed for the Fox Creek Village development project; second reading of an ordinance vacating a utility easement at the Old Town Hot Springs
- 7 p.m. Public comment; Planning Commission referrals; City Council and staff reports, including an update on the 2009 budget and furlough plan
Steamboat Springs — A Lincoln Avenue construction project that will create major hassles in downtown Steamboat Springs is inevitable, but City Council members will weigh in tonight about how best to schedule the disturbance.
The Colorado Department of Transportation's pavement replacement project on Lincoln Avenue through downtown is scheduled to begin after Labor Day this year and will conclude in 2010. Council members will be presented with two options for phasing the project.
The option being recommended by city staff would limit the work to Steamboat's shoulder seasons this fall and in spring 2010. However, it also would require the complete closure of three Lincoln Avenue intersections this fall at Third, 12th and 13th streets from 7 p.m. to 7 a.m. daily. The remainder of the project would be conducted on half of the road at a time for three-block stretches and allow traffic to move through the area.
The second option constructs the entire project on half of the road at a time in three-block stretches. That option would take longer to complete, extending through summer 2010 and concluding Nov. 1, 2010.
City Manager Jon Roberts said the staff-recommended option achieves the "original goal to complete all the work in the shoulder seasons." Roberts said he has not yet seen a plan for rerouting traffic around closed intersections this fall.
City Council President Loui Antonucci said he supports the same option because it affects the fewest people for the shortest amount of time.
"It's going to be difficult on the community no matter which scenario we choose," he said.
In addition to a concrete pavement replacement, the project includes construction of underground utilities and storm sewer pipes, curb and gutter replacement, the installation of a stoplight at 11th Street, the installation of fiber-optic conduits that will coordinate all the traffic signals through downtown, and the construction of sidewalk bulb-outs at signaled intersections.
"It will have a pedestrian-friendly feeling with the bulb-outs, which will reduce the time it takes the pedestrian to cross the street and give them a comfort level," Roberts said.