If you go
What: Chris Corna memorial service
When: 5 p.m. Sunday
Where: Slopeside Grill, 1855 Ski Time Square Drive
Call: Lindsey Grannis at 846-5680 for more information
Donations: In lieu of flowers, donations should be made in Corna's name to Routt County Humane Society at 879-7247 or Doak Walker Care Center in care of the Healthcare Foundation for the Yampa Valley, 871-0700.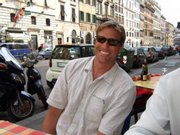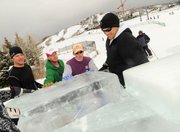 Steamboat Springs — The death of Slopeside Grill owner Chris Corna is under investigation by Port Chester, N.Y., police, who say Corna's injuries included stab wounds inconsistent with his car accident early Monday morning in the town about 30 miles northeast of Manhattan.
Lt. James Ladeairous said Corna, 45, crossed the center line on U.S. Highway 1 in a rented car and crashed into the foundation of a railroad bridge at about 4:35 a.m. Monday. He was found alone in the car, and no other vehicles were involved in the accident.
Ladeairous said the stab wounds on Corna's neck and chest appeared to be made by a knife. Ladeairous said police found a bloody knife in the car.
"The wounds are inconsistent with the accident," Ladeairous said Tuesday. "We don't know if they were self-inflicted or not. : There's still an investigation going on."
Ladeairous said police are testing the knife for fingerprints and testing for the origin of the blood. Ladeairous said there were no witnesses to the accident.
News of Corna's death has devastated friends and family members across the country, from his home in Steamboat Springs to his hometown of Columbus, Ohio, and to the Connecticut home of his fiancee, Lisette Coen.
"I can't imagine what I can say," said Chris Corna's mother, Barbara Corna, who thanked the people of Steamboat for their support and love. "He was my whole life. He was the most wonderful son that God ever placed on this Earth. I will miss him until the day I die, and I don't know how I can possibly go on without him. : He's never given me a single moment of sadness until right now."
Ladeairous said Coen came to the police station at 9 a.m. Monday saying she had received text messages from Corna early Monday morning but couldn't find him.
"She said she was sleeping when he must have went out, and then what happened, happened," Ladeairous said.
Coen confirmed this information. She said she didn't hear Corna leave her house.
"He was the love of my life. He was my soul mate - and I never believed in them before Chris," Coen said. "I keep waiting for him to walk through the door."
Coen said Corna had been visiting her and her family in Greenwich, Conn., since early May, and proposed to her last week.
"He proposed to me in front of my four kids at the breakfast table and told us it was a family decision," Coen said. "He proposed to me, and then he proposed to them. : It was a resounding 'yes.' : To watch children grieve should not be anyone's form of hell. They loved him."
Investigation continues
Ladeairous said an accident report would not be released until the investigation is complete. Officials in the Westchester County, N.Y., Medical Examiner's Office said Corna's causes of death were stab wounds to the neck transecting the carotid artery and trachea and blunt force trauma with multiple bone fractures.
"The medical examiner said the blunt trauma from the accident would have been enough to kill him," Ladeairous said. "But who knows that he didn't die first from the stab wound, and then crash? That's what we're trying to figure out."
Ladeairous said Corna could have been driving between 35 and 55 mph when he struck the foundation of the railroad overpass. The posted speed limit on U.S. 1 through Port Chester is 30 mph. A toxicology report is pending.
Port Chester is across the state line from Greenwich. Ladeairous said Corna was driving south on U.S. 1, away from Greenwich and in the direction of New York City.
Rock solid
Flowers, photos, notes and mementos have been placed outside Slopeside Grill at the foot of the ski slopes that Corna, an avid snowboarder, loved so much.
"After the slopes closed, he was counting the days until they opened again," said friend Mignon Stetman, who attended the University of Florida with Corna. Stetman said Corna was a rabid Gator fan who attended Florida's win against Ohio State University in the 2007 BCS National Championship football game. Stetman said Corna also loved Tom Petty and the Heartbreakers and "followed them around like a groupie."
"He also loved driving around in his red convertible Cadillac he had back in the day," Stetman said with a laugh between the tears.
Corna also was a golfer, a scuba diver, a mountain biker and an animal lover, friends and family said.
"I think that this whole town is devastated and everyone is just suffering a great loss," Slopeside bartender Rebecca Boucha said. "I don't think Steamboat will ever be the same, let alone Slopeside. : Unfortunately, I only had the pleasure of working with him for three winters. I wish I could have had more time with him."
A recurring theme in stories told by those close to Corna was that he made a point to be a source of strength for them in times of need. Stetman said that when her husband died, Corna stepped up to handle all the arrangements.
"He was one of my rocks, and I feel like that rock has crumbled," she said. "He was a very special friend."
Coen said she has known Corna since she was 14 years old, when they were growing up in Ohio.
"He has been the same person from the very beginning," Coen said. "He always had a smile on his face, and a kind word for anyone. : We kept in touch through the circles of our world, and when we reconnected, it was just so easy. It was like coming home."
Coen said she and Corna had several trips planned this summer and intended to spend August in Steamboat with her children. They hoped to get married this summer, and had begun to discuss where they were going to live. Coen said it was given they would live at least part-time in Steamboat.
"He was happy. Everything was good. Everything was so good," Coen said. "I feel like I'm going to die of a broken heart. I really do."
A memorial service is planned for 5 p.m. Sunday at Slopeside Grill at the base of Steamboat Ski Area. The restaurant and bar is closed for mud season.
Corna's stepmother, Nadine Corna, said Chris Corna will be cremated in Connecticut and that his ashes immediately will be sent to Steamboat Springs.