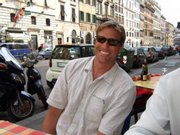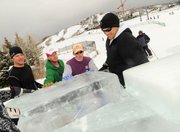 With the death of Chris Corna, Steamboat Springs has lost a caring friend, a dedicated business owner, a great scuba diver and an all-around "great guy," friends said Monday.
Corna's parents confirmed that their son died Monday morning in a traffic accident on the East Coast.
"He was in an automobile accident," Richard Corna said. "We don't know all the details yet."
A police dispatcher in Greenwich, Conn., referred questions to the police department across the state line in Port Chester, N.Y. A Port Chester police sergeant said he could not release any information Monday evening but that a lieutenant would be able to today.
Richard Corna said the family plans to bury Chris Corna in Steamboat and to hold a memorial at Slopeside Grill, the base area bar and restaurant he owned. The family did not yet have details for services.
Corna's friend Abby Bushnell said Corna was visiting his girlfriend's family in Connecticut. Bushnell said she recently received a text message from Corna reading, "Hey, I'm in Connecticut. I found myself a lady, and I'm so happy."
Bushnell described Corna as "the most kind and generous man I've ever met in my life."
"Any time I've needed anything, he was one of the first people who would drop everything - even if it was just to bring me lunch," she said. "He would do whatever he could to make you feel better. : Steamboat just lost one of the best men it's ever had."
Several friends gathered Monday at the home of longtime Corna friend Lindsey Grannis.
"We're sitting around laughing and crying and feeling numb and going through all the phases that happen when you lose someone," Grannis said. "He will be a big piece of Steamboat that's missing, and I think it's going to be felt throughout our entire community."
Grannis said she fielded phone calls from people across the country Monday.
"That's the thing about Chris: He's got friends everywhere," said friend Kier Delaney, who owns the Saketumi restaurant near Slopeside in Torian Plum Plaza. "This is going to be like a national day of mourning."
Like Bushnell, Delaney said Corna was always there for friends when they needed him most.
"He's the guy who would help anybody with anything : whether they deserved it or not," Delaney said. "It always made you stronger knowing you had him with you. : If he ever felt unappreciated, that certainly was not true."
Corna was the former president of the Mountain Business Association, a restaurant representative on the Steamboat Springs Chamber Resort Association board of directors, a member of the Base Area Reinvestment Coalition and president of the Torian Plum Condominium Owners Association.
"He took that facility (Slopeside) and took something that was neutral, at best : and he immediately turned it around and turned it into something very unique and very special," said Andy Wirth, chief marketing officer for Steamboat Ski Area owner Intrawest. "Slopeside is a real reflection of Chris Corna and his personality. : That place has been a great part of the Steamboat experience for a lot of people."
In addition to their business dealings, Wirth said he and Corna were friends. Wirth said he left Corna a message Monday morning about a ski trip they were planning to Whistler, British Columbia. In return, Corna was going to take Wirth scuba diving.
"There weren't very many heads that didn't turn when he walked by," Wirth said. "This town, this community will be lesser because of the loss of Chris Corna. : He was a great example of the 'work hard, play hard' phrase."