Photo Gallery
State track meet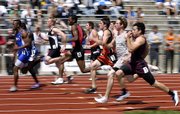 Loveland — Saturday had disaster written all over it for the Hayden High School track and field team.
Entering the final day of the state meet, the team's top medal hope, high jumper Murphy Smartt, was hobbling on a twisted ankle.
The team's super sprinter, Jake Walker, was battling a chronically injured knee and Holli Salazar, perhaps the school's most dominating athlete, was fresh off a crushing upset in Friday's shot put finals that denied her back-to-back championships in the event.
It wasn't even noon before it was obvious that, like the first two days of the state championship track meet in Lakewood's JeffCo Stadium, the Tigers had licked their wounds and fought through the obstacles.
Hayden picked up a second-place performance from Smartt in the high jump, a surprising third-place finish from Salazar in the discus, a fourth-place finish from the boys 400-meter relay and a fifth-place showing from Walker in the 100 finals.
Smartt rolled his ankle before the track meet even started. Hayden stopped off in Golden on its way to Lakewood for a day of training. Smartt jumped off a safety mat and said he never felt the same.
Still, it didn't seem to slow him in the high jump. The junior finished just 1 inch short of the personal best he recorded last week. He tied with Kent Herman, of Hi-Plains, in clearing 6 feet, 5 inches, but was dropped to second place after having accumulated more misses at the lower heights.
"It was all right," Smartt said. "I was always conscious of my ankle, but I still left it all out there.
"I'm a little mad at myself. My second attempt at 6-6, I just tucked a little otherwise I would have had it. I would have won the championship."
Smartt entered the meet with the second-best mark, so his finish wasn't a great surprise. Salazar, though, performed well above her previous best to place third in the discus.
Her throw of 116-1 was 2 feet better than her nearest competitor and earned her a third-place medal for the second day in a row. This one, though, tasted a little better than the shot put medal from the day before, an event she had hoped to win going away.
"Third right now is feeling pretty good," Salazar said. "I was ranked eighth and got third. I'm really excited about that."
Like Smartt, both Walker and the 400 relay team of which he is a part came away with a hint of disappointment.
Walker was fourth in last year's 100 finals at the state meet. He finished fifth Saturday with a time of 11.44. Miami-Yoder's Mike Carl won the event in 11.08.
The relay team, also with Braylin Wertenberger, Billy Zehner and Coy Letlow, finished fourth in 45.02.
"It just shows sometimes when you put your mind to something, you place fourth," Zehner said with a laugh. "It felt pretty good, but we wanted better than fourth."
Hayden junior Maddison Kopsa also made her state debut Saturday. She was 14th in the girls triple jump with a leap of 31-3.75.
The boys finished seventh overall with 33 points. The girls were 20th with 16.
Soroco boys add medal
Soroco High School picked up one more medal Saturday despite competing in just one event. The boys 1,600-meter relay team placed ninth with a time of 3:38.92.
Alex Estes, Cody Miles, David Strait and Ryan Tibbetts ran on the squad.
That point gave the boys team a total of 27 and bumped Soroco into 12th place, one ahead of Briggsdale and 1.5 behind Sedgwick County.
"Overall, the kids really came out well and ran hard," Soroco coach David Bruner said. "It's been awhile since we've scored this many points. We expect a lot of things out of this same group next year, too."
Steamboat Springs High School, meanwhile, saw its only medal hopes dashed in the Class 4A girls pole vault. Junior Jaime Winter cleared 8-6 but couldn't get any higher. She finished tied for 15th place.