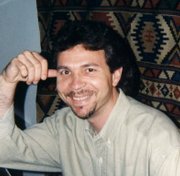 Steamboat Springs — Guy DeFazio
Age: 46
Occupation: Engineer
Place of birth: Baltimore
Q. When did you move to Routt County, and what brought you here?
A. November 2008, to join the engineering team at the Steamboat Springs Sheraton.
Q. What's the biggest risk you've taken recently?
A. Consuming way too many tortilla chips on Cinco de Mayo.
Q. Describe your morning routine.
A. Marveling at the gorgeous morning skies in Steamboat.
Q. Has a book ever changed your life? What was it and why?
A. Over the years, I've become a product of many schools of thought.
Q. What's the best piece of advice you've ever been given?
A. Do unto others.
Q. What three things would you want people to know about you?
A. Dedicated, honest, loyal.
Q. What did you want to be when you grew up?
A. I hope to never stop growing.
Q. If you could invite any four people to dinner, who would they be and what would you talk about?
A. The four people who've meant the most throughout my life, in order to thank them.
Q. In the Meatloaf song, "I'd do anything for love, but I won't do that," what is that?
A. Listen to Meatloaf.
Q. What was your first job?
A. Being a good son.
Q. Who is your favorite superhero? Why?
A. My father. His love for making strangers smile will always be with me.
Q. If you could go back in time, to what event or time period would you go?
A. Wow. Too difficult to choose.
Q. What is your favorite thing to do in Routt County?
A. Meet good people.
Favorites
Book: Still looking for it
Song: That's a long list
Color: Blue
Food: Seafood
Sport to watch: All
Vacation spot: Paris
Recreational activity: Golf