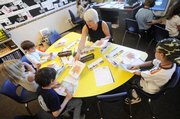 For more
- Visit or contact your local elementary school or school district administration office for more information about kindergarten enrollment for the 2009-10 school year.
- In Steamboat Springs, call Strawberry Park Elementary School at 879-7550, Soda Creek Elementary School at 879-0652 or the Steamboat Springs School District at 879-1530.
- In Hayden, call Hayden Valley Elementary School at 276-3756 or the Hayden School District at 276-3864.
- In South Routt, parents can call South Routt Elementary School at 638-4558 or the South Routt School District administrative office in Oak Creek, behind Soroco High School, at 736-2313.
Steamboat Springs — Administrators say predicting the number of kindergartners who will join local schools in the fall is more art than science, but if pre-enrollment numbers are any indication, all three Routt County school districts are on track for full classrooms next fall.
The Steamboat Springs School District will increase the number of full-day kindergarten classes offered for the next school year. Superintendent Shalee Cunningham said it appears the schools are on track to fill the new spaces.
"They are full right now, and we're looking at turning one of the half-day classrooms into a full-day," she said.
Soda Creek and Strawberry Park elementary schools in Steamboat Springs each have one half-day and three full-day classrooms available for next school year, with 130 students registered so far. That's 20 fewer students than last year's count, but Cunningham said she expects more students to enroll during the final weeks of the year and during summer.
Students can register at the schools until the last day of classes and at the district offices during summer.
This year, the tuition for full-day kindergarten was $250 per month. Cunningham said the price for next year is not yet set. The price will be determined closer to the beginning of school, based on the final number of enrolled students and the number of free and reduced-price students.
Soda Creek Elementary School Principal Judy Harris said the three full-day classes at her school have about 18 students each, and the half-day class has 12, but she expects that number to continue to increase. She has spent time during the last week meeting with parents of kindergartners and explaining pick-up and drop-off procedures.
The number of kindergarten students at Hayden Valley Elementary School also is looking strong, said Principal Rhonda Sweetser. With 30 students pre-enrolled, Sweetser said next year's class is almost guaranteed to be bigger than this year's group of 28.
"I'm hoping for good numbers next year," she said. "To tell you the truth, I would be ecstatic if we had 40 kindergartners. That would be fabulous."
Hayden charges $7 per day for the kindergarten class, a price that Sweetser noted is much lower than even the cost of daycare for children of that age.
"It's a pretty incredible rate," she said. "And there is an option to apply for free and reduced rate if there is a need."
The students are divided into two full-day classrooms, and parents also can choose to send the students for a half-day session.
The school will hold a visitation day for parents and children May 21, the last day of classes. Parents are urged to register before that day, but everyone is welcome, Sweetser said.
About 40 students have registered for kindergarten at South Routt Elementary School, Principal Michael Young said. He added that, 30 of those students are girls, with only 10 boys registered so far, he said.
Kindergarten is free for South Routt County students, and Young said the pre-enrollment figures typically hold up well during summer, with only a few changes as students move in and out of the district.
"Typically when we do this pre-enrollment, we don't add to it over the summer," he said.
The figure also is stable from last year's class, he said.
Parents who want to enroll students in South Routt school should call the elementary school at 638-4558, visit the school in Yampa or call the South Routt School District administrative office in Oak Creek, behind Soroco High School, at 736-2313.