Photo Gallery
State track meet in Lakewood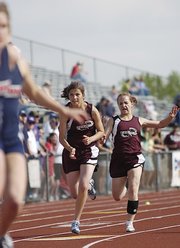 Lakewood — The final evidence didn't come until 15 minutes after Soroco High School junior Alex Estes crossed the finish line in the Class 2A boys 1,600-meter relay preliminary race.
Still, the proof was sprinkled throughout the day Thursday. Routt County high school athletes found ways to dominate the first day of the three-day state high school track meet at Lakewood's JeffCo Stadium - thanks to a day's worth of close calls, last-second rallies and heart-stopping action.
"I'm excited," Hayden coach Barbara Manzanares said. "We got some momentum going, and we have some great things going headed into the next day."
No performance Thursday was bigger than Estes' in the long jump. Estes placed second in the event and joined classmate Matt Watwood, who was sixth in the shot put, in medaling on the meet's first day.
Estes' leap underscored a day of last-moment magic. Third at last year's state meet, he qualified for the finals again but sat mired in fourth place. He then scratched on the first two of his three finals jumps.
He could only watch as a pair of competitors soared past his mark, dropping him even further in the standings.
Finally, on his last jump, he soared well past his previous best and, with a blast of sand, into second. His final mark was 20 feet, 6 inches.
"I was moving my mark back 1 1/2 steps, but on the last one, I moved it back two steps, just to be safe," Estes said. "I knew I was jumping pretty good; I knew I could jump that far.
"I knew I could. I'd have been really mad if I hadn't."
The performance helped lift the Soroco boys into a tie for second place after the meet's first day. The team has 12 points, tied with Hi-Plains and behind Sedgwick County's 23.
Later, the boys 1,600-relay team, with Estes, Cody Miles, Ryan Tibbetts and David Strait, managed to grab the final slot in Saturday's finals.
The team finished with a time of 3:36.34, ahead of 10th-place Merino at 3:36.66.
The Soroco girls team cut things equally close. Lauryn Bruggink, Traci Schlegel, Ceanna Rossi and Sarajane Rossi ran for the Rams and qualified with a time of 1:51.86, the eighth-best time of the nine team's selected to move on.
Hayden had its fair share of close calls, too. None was closer than Jake Walker's 200-meter run. Advancing in the 200 helped the speedy junior solidify a perfect day.
He easily qualified in the 100 meters - he'll enter that race's finals with the fourth-fastest time. He also made the finals as part of two relay teams, joining Coy Letlow, Billy Zehner and Braylin Wertenberger in the 400- and 800-meter relays.
The Tigers recorded top-five times in both races.
But in the 200, Walker struggled. He tightened up as he rounded the corner and finished sixth in his nine-racer heat.
"It's extremely disappointing," he said minutes after the race, assuming he hadn't moved on.
But he had - barely. Walker was the ninth of nine to move on, and he'll race today in the 800 relay and 200 finals.
"It's going to be awesome," he said about today's races.
Late-race heroics paid off for Hayden's girls 3,200-meter relay team, too. Krista Tomke and Aspen Zabel got the Tigers off to a competitive start, but a late charge by Calla Manzanares and a clutch anchor leg from Delanie VeDepo helped the team step into eighth place and a medal.
The team finished with a time of 10 minutes, 58.76 seconds, its best of the season.
"It's a big deal," Zabel said after the race, savoring the thought of a medal. "It's amazing. That was our best race."
Maybe the only performance that didn't leave hearts pounding was Watwood's, who opened the competition with a good throw and rode it to his first state medal.
His toss of 45 feet, 8 inches, was just 2 inches shy of fifth place.
He was excited afterward, wearing his medal pinned to his maroon Soroco jersey as he laughed about the afternoon's performance.
Watwood was excited about more than just his performance. This year is the first time all four of the state's classes have come together for a centralized state meet, and the hundreds of athletes competing from scores of schools made for a tremendous spectacle.
It's a spectacle that Hayden and Soroco were right in the middle of Thursday.
"State," Watwood said, beaming, "is cool."