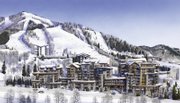 If you go
What: Steamboat Springs Planning Commission meeting
When: 6 p.m. today
Where: Centennial Hall, 124 10th St.
Call: City planning offices at 871-8258 for more information
Steamboat Springs — Editor's Note: This story has been changed from its original version, to state that the 4-acre lot in Overlook Park could accommodate more than 130 affordable housing units. That build-out could provide the city with a savings in land costs of about $5.9 million, according to current city affordable housing cost formulas.
Developers hope the Steamboat Springs Planning Commission will make short - and favorable - work of a project previously dubbed too tall an order.
Development plans for the Steamboat Highlands project, which the Planning Commission will review tonight, propose a 330,000-square-foot resort condominium development on Burgess Creek Road. The proposed development is 108 feet tall at its highest point, or 45 feet above code in the city's G-1 zone district. As proposed, Steamboat Highlands would include 136 condos and 14,418 square feet of commercial space.
The 2.11-acre project site consists of two lots, and developers also must succeed in rezoning one of the lots from low-density residential to the high density G-1 resort zone district. The zoning map amendment and the development plans - as well as the project's community housing plan - are up for consideration at tonight's Planning Commission meeting. City planners are recommending approval of three applications, with conditions, but the project has numerous vocal opponents among nearby property owners.
In exchange for the height variance and also setback variances, the project's developers are proposing public benefits including the dedication to the city of a 4-acre lot in Overlook Park for affordable housing, economic sustainability in the form of nightly rentals, a building that will earn a silver Leadership in Energy and Environmental Design certification from the U.S. Green Building Council, a day-lighting and restoration of Burgess Creek through the site and a voluntary real estate transfer tax on the project that would be devoted to the city's base area urban renewal authority.
"We want the transfer fee to go to upkeep, maintenance and construction of base-area specific projects," said Jeremy MacGray, of JSM Builders, local representative for developers Gamir/Reilly Development. "That's why we didn't just allocate it to the city's general fund."
MacGray said the 4-acre parcel in Overlook Park could accommodate more than 130 affordable housing units. That build-out could provide the city with a savings in land costs of about $5.9 million, according to city affordable housing cost formulas, MacGray said. City planner Jason Peasley said the $5.9 million figure is a fair extrapolation based on current land values and possible units for the site - but both those factors are subject to change, he said.
"The real value is that the parcel has a lot of optionality, and it gives the city the ability to achieve a number of goals," Peasley said of the Overlook Park lot.
MacGray said the Overlook land dedication is in addition to a $1.3 million payment in lieu to satisfy the city's affordable housing ordinance. MacGray also said improvements to Burgess Creek - including waterfalls, pools and vegetation - would be a benefit to the general public because the project as proposed includes an elevated boardwalk through the site that would connect to existing public trails at the base area.
Many nearby residents, however, are concerned about the project's mass and impacts to Burgess Creek Road, which many already consider dangerous.
Also tonight, planning commissioners will review a proposed code change that would limit the size of single-family dwelling units in the industrial zone district to 1,400 square feet and increase the allowable square footage in that zone for employee units and accessory uses. Planning Commission also will provide feedback on several components of the Steamboat 700 development seeking annexation into city limits.