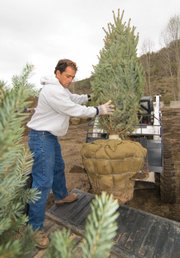 Get involved
Anyone interested in joining Impact 100 - a group that asks members to pay $150 each year to be given out to local nonprofit organizations - may contact the Yampa Valley Community Foundation at 879-8632. Learn more about YVCF and Impact 100 at www.yvcf.org.
Steamboat Springs — Steamboat Springs Middle School students soon will have access to outdoor recreation equipment to last a decade, thanks to a $10,000 grant from Impact 100.
Everything Outdoor Steamboat was the top recipient of funds from Impact 100's third grant cycle. EOS, which provides non-motorized outdoor education and recreation experiences at no charge to students, plans to fulfill a "dire need" for equipment, said Everything Outdoor Steamboat director and middle school science teacher Matt Tredway.
"It's just equipment that is necessary to make sure these kids have a good time," Tredway said.
The club will buy new harnesses and rope for rock climbing, sub-zero sleeping bags and tents for camping, and additional gear for all seasons, he said. The grant pushes the club well beyond its typical budget, the majority of which comes from the middle school's annual tree sale.
"This thing is so huge, because we've always been self-funded," Tredway said.
Impact 100 started when members of the board of directors for the Yampa Valley Community Foundation sought to attract a young, dynamic section of the community to charitable giving, said Impact 100 steering committee member Beth Bishop.
The group recruited 100 members and asked them to contribute $150 each. At meetings and events throughout the year, Impact 100 members hear grant proposals from community groups in five categories: health and human services, arts and culture, recreation, education and environment.
"I think the purpose of the group is to be able to really pay a minimal amount of money : and really be able to have a big impact with that money," Bishop said.
The group's enrollment is capped at about 100 so those events can be held at private residences, she said. There were 105 members for the 2008-09 grant cycle.
On April 30, members of Impact 100 cast votes on which grant proposals would receive funding.
"I think most people vote on impact - on where they think those dollars will have the most impact," Bishop said. "And I think that in this situation people saw that by purchasing equipment for Everything Outdoor Steamboat it would impact hundreds of kids over the next few years."
The group also gave $3,200 to the Northwest Colorado Visiting Nurse Association's "Poogie's Place," a youth bereavement program. Community Cultivation, which provides organic gardening experiences for 14- to 21-year-olds with developmental disabilities, received $1,000.
Tredway said he expects Everything Outdoor Steamboat's new equipment to last about a decade, serving students on more than a dozen backpacking, mountaineering, climbing, mountain biking and kayaking trips each year. The group's proposal to Impact 100 was similar to its mission statement.
"We honestly just said, 'Hey, for us, we just think it's critical to have kids moving, to have them outside, to have them have something that they're passionate about,'" Tredway said.