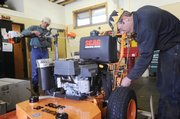 Steamboat Springs — Rocky Mountain Youth Corps has bolstered its staff with local faces and spent about $30,000 at community businesses with the help of $254,000 it received in American Recovery and Reinvestment Act funds.
RMYC received the funds through the U.S. Forest Service, which contracted with Colorado Youth Corps Association to help mitigate the impacts of the Rocky Mountain West's mountain pine beetle epidemic. RMYC has yet to put a crew in the field this summer, but the stimulus money already is being felt and appreciated in Steamboat Springs.
Among its stimulus purchases, RMYC has placed a $16,000 order for 20 steel chain saws with Precision Sharpening and Repair Service in Steamboat. Precision owner Jim Pavlik said he was angered earlier this year when tree-removal contracts in the Routt National Forest went to companies in California and Florida instead of local loggers; Pavlik said the order he received from RMYC renewed his faith in the federal stimulus legislation.
"It raised my hopes that some of this money will go where it's doing the most good," Pavlik said. "It's wonderful. It came at the right time for me. : What RMYC has done for me with this purchase was allow me to stock more inventory."
Pavlik said he typically sells about $200,000 worth of chain saws a year.
RMYC Project Manager Brandon Warren said the corps also spent about $10,000 on three new trailers from Sasak Trailers. RMYC also has used stimulus money to purchase equipment and supplies from other local businesses including Crown Prints, Steamboat Motors, Northwest Data Services, BAP and Ace Hardware.
"We always shop around, but unless it's a significant difference, we always, always go for local," RMYC Executive Director Gretchen Van De Carr said. "We get a lot of local support, and we like to reciprocate that whenever we can. : We live here. We want to support the local (businesses), obviously."
Van De Carr said RMYC increased its seasonal program staff from four employees to seven, hired a part-time finance manager and turned a part-time program coordinator position into a full-time job, among other staff increases. Van De Carr said all the jobs went to locals.
RMYC will add an additional three crews this summer, each consisting of 10 young adults ages 19 to 25 who will work 40 hours a week this summer removing beetle-killed trees 12 inches in diameter and less.
"That's definitely focused on campgrounds, trailheads and all these places they want to get back open," Warren said.
Pavlik said he thinks RMYC's work this summer will have an immediate and profound effect on the local economy.
"We count so much on our campgrounds and visitors to them, that making them safe makes an almost immediate impact on our economy," said Pavlik, who said he sells equipment to RMYC at a discounted rate. "I've always been able to cut (RMYC) some slack because I believe very much in what they're doing."