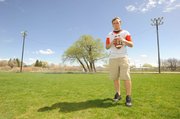 Hayden — When the final decision came, Hayden High School football player Coy Letlow knew University of Northern Colorado was the best fit.
The school, the atmosphere and, most importantly, the chance to play early sold Letlow on the Bears.
"It's big enough for me and at the level I want," said Letlow, who will be a preferred walk-on in Greeley. "I went and watched a game and the atmosphere and school - it's where I want to play."
Despite coming from a small Class 1A school, Letlow's statistics and body of work for four years on the field were too hard to ignore.
After he was just another weapon his freshman year, Letlow became a stalwart and standout his last three years running the ball for the Tigers. He put up three 1,000-yard rushing seasons and always was the focal point for defenses trying to slow Hayden's attack.
Letlow finished his high school career with more than 4,600 yards rushing.
"For four years, Coy was a starter," Hayden coach Shawn Baumgartner said. "He brought a lot of hard work. He led by example on and off the field. He was definitely a quiet kid. He was never the rah-rah type kid. He was a kid you could turn to and knew you could trust. You knew he would get it done."
Letlow also helped a Hayden football team return to dominance, helping the team to the state playoffs three of his four years as a Tiger.
Maybe his most impressive performance came his junior year. After running for more than 1,700 yards his sophomore season, Letlow - with defenses keyed against him - still ran for 1,400 yards and helped his team reach the Class 1A semifinals.
"That junior season was the best," Letlow said. "It was just how we connected as a team. It was a balanced team attack. We were able to pass the ball and were a well-rounded team."
Although Letlow is unsure where he fits into the Bears' scheme, he's been told he'll play either running back or defensive back for UNC. His preference is, of course, to play running back, but his best chance to get onto the field might be in the defensive backfield.
"I know he wants to play running back - that's his first love," said Baumgartner, who played cornerback at Fort Lewis College in Durango. "I'm not sure where he sits on the board at UNC. I always thought he could play on the defensive side of the ball at the college level. He's a strong safety type of kid that could roll up as a linebacker."
Letlow will begin UNC offseason workouts after he finishes the track and field season. Currently at 195 pounds, Letlow - who runs the 40-yard dash in 4.56 seconds - said he'd like to add 15 pounds before fall camp begins in August.
Until then, it's just continuing to work hard for one of Class 1A's most productive players.
"My goal so far, not being in the program, is definitely to get on the field as a freshman," he said. "Definitely by my sophomore year, maybe not every snap, but I want to be getting plenty of playing time."