Results
No. 1 doubles
Kylee Swiggart and Sara Bearss def. Alyson Waloch and Alex Lehnert, of Greeley West, 5-7, 7-5, 6-3, on Saturday to win a state high school doubles championship.
Team standings
1. Cheyenne Mountain: 69
2. Fossil Ridge: 38
3. Regis: 31
4. Greeley West: 24
5. Mullen: 22
6. Fountain Valley: 21
7. Kent Denver: 18
8. Steamboat Springs: 17
8. Niwot: 17
10. Colorado Academy: 16
Photo Gallery
State tennis champions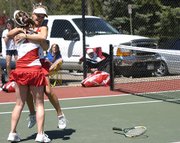 Kylee Swiggart and Sara Bearss won the No. 1 doubles state championship, defeating Greeley West's Alyson Waloch and Alex Lehnert, 5-7, 7-5, 6-3, on Saturday in Pueblo.
Pueblo — There was a sentiment early Saturday morning that fate might be on the side of Steamboat Springs' aspiring state tennis doubles champions, Sara Bearss and Kylee Swiggart.
The pair of high school juniors was assigned to play its state finals match on the very same Pueblo City Park court where, a year before, Molly Weiss won the program's first state championship.
But three hours later, it was hard to believe luck or superstition had anything to do with Saturday's match.
No - it came down to guts, and the steely Steamboat Springs High School pair had just enough to win a three-set thriller.
Bearss and Swiggart won the No. 1 doubles state championship, defeating Greeley West's Alyson Waloch and Alex Lehnert, 5-7, 7-5, 6-3.
"We're on cloud 10 now," said Bearss, one-upping her post-semifinals emotions from the day before. "It feels amazing."
That ecstasy was the product of a grueling trail. Steamboat appeared ready to be washed away on several occasions, but the Sailors closed their state tournament run with their best tennis of the season. Trailing, 3-2, in the third set, they took to dominating the net and pounding Greeley West's baseline. They finally nailed down a series of sharp service games and broke Greeley's twice, including against the once-untouchable Waloch.
"It was like a rollercoaster, going up and down," Steamboat coach John Aragon said. "The way they played over the last four games, that's the level of tennis we can see from them. They handled the pressure really well."
The final surge of points was actually the only time either team was able to really take control of a situation. Steamboat failed twice earlier in the match to put sets away.
The Sailors had a 5-4 lead late in the first set but lost three straight games. They then seemed on the verge of walking away with an easy second-set victory but again left the door open.
Steamboat led 4-1 in the second set and was within a point of going up 5-1.
Bearss lost her first service game of the morning; however, and Greeley roared back to tie the match at 5.
Swiggart landed an ace to help give Steamboat a 6-5 lead, then the pair got to Waloch, breaking her for the first time.
"We got too comfortable with our score. We were just assuming the next two games would come to us rather than having to work for them," Swiggart said about the second set's dramatic swings. "Finally, we both realized we needed to either step it up or go home."
Steamboat again was in a deep hole early in the third. The Sailors lost two of the first three games, both of which they had served.
At its best, Greeley won the battle at the net, either returning volleys with the consistency of a brick wall or chipping the ball just out of reach. The Greeley pair controlled Steamboat's service games by pounding the ball hard down the line, a series of shots so decisive Bearss and Swiggart could barely even step in the right direction in time, let alone get a racket on the ball.
It was Steamboat's power and creativity that won out, however. The Sailors scored big points by lobbing the ball high over Waloch and Lehnert, landing shot after shot right on the baseline.
Swiggart scored often playing near the net, hammering any lazy Greeley shots. Bearss, meanwhile, continually drove the ball up the middle of the court, threading her opponents.
"They were really aggressive to the net, and we knew to beat them, we had to get more aggressive," Swiggart said. "We tried to get to everything, so we could put it away rather than start a volley."
Growing as a team
Bearss and Swiggart's championship run was the product of two years playing together. They grew as friends and tennis players, turning a fourth-place finish in last year's state tournament into a championship this year.
Together, they became the most successful partnership in the history of the Steamboat girls program, but afterward, both admitted a senior-year repeat is unlikely. They probably will split up to play singles.
"They're not going to have much choice," Aragon said with a laugh, explaining that the girls essentially have played their way out of a doubles team.
He paused and cast an eye toward the Pueblo City Park Court No. 1, site of back-to-back Steamboat Springs High School championships.
"We came in this morning and said, 'This is the court,'" he said. "This is Steamboat Court. Our girls wanted it today, and they got it. They deserved it. They're a quality team."
The championship helped lift Steamboat into an eighth-place tie at the state tournament. Cheyenne Mountain dominated the three-day event, finishing with 69 points to claim the Class 4A team state championship. Fossil Ridge was second with 38 and Regis third with 31.
Steamboat and Niwot, last year's team champion, each finished with 17 points, one behind seventh-place Kent Denver.