Past Event
Sunday, May 10, 2009, 3 p.m.
St Paul's Episcopal Church, Ninth and Oak streets, Steamboat Springs
Not available / $5 - $10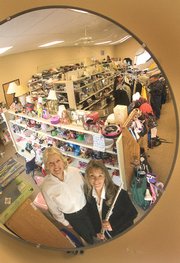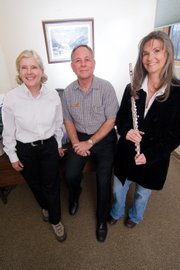 Steamboat Springs — Once every two years or so, Kathleen Allen gathers the energy to be a ham.
When that happens, the soprano singer, professional piano tuner and Hayden resident recruits the help of musical friends to put on a recital of classical works with a few fun twists.
On Sunday, she'll join South Routt County flutist Belinda Rossi and Denver pianist Kevin Kennedy for a concert of showpieces and classical compositions for solo instrumentalists, duos and trio. The show starts at 3 p.m. at St. Paul's Episcopal Church. Admission is a $10 suggested donation for adults and $5 for children ages 12 and younger. Proceeds will go to LIFT-UP of Routt County.
Rossi was drafted for the concert in the fall - she had been looking into getting a piano, and Allen had been looking into having diverse instrumentation for her next voice recital. The two chose a list of songs and started rehearsing in January.
Allen has wanted to perform Samuel Barber's "Knoxville: Summer of 1915," a composition for solo voice and a small instrumental ensemble, since she moved to Steamboat, she said. The song is set to lyrics about a childhood summer night spent outside.
"It says almost everything there is to say about small-town yearning, close families, love and loss. It's just an amazing piece," Allen said. The program also features shorter vocal works Allen describes as "pure silliness," including a comical Broadway song about noisy neighbors called "The Girl in 14G."
Rossi will perform three short, melodic pieces by contemporary composers, including one by Paul Schoenfield. The bulk of her part of the program is devoted to "Undine," a sonata by Danish contemporary composer Carl Reinecke; like many other pieces on Sunday's song list, the sonata has a story behind it, Rossi said.
"It's about a water spirit who falls in love with a mortal; and that always ends bad," she said.
Rossi - who has a degree in flute performance from the University of Northern Colorado - has performed with the Steamboat Springs Orchestra, plays weddings regularly, occasionally improvises music with the Steamboat Springs African Dance & Drum Ensemble and sings with a country trio in Yampa called the Green Ridge Ramblers.
"This kind of gets me back to some classical roots," Rossi said. Allen has performed with Strings Music Festival in addition to her own recitals.
The concert program lasts about an hour and a half, Allen said. Ticket proceeds for LIFT-UP will go toward a variety of services; LIFT-UP offers assistance to those in financial need through a food bank, housing grants and an emergency fund, among other programs.