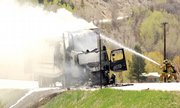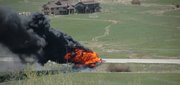 Steamboat Springs — The driver of a semitrailer that caught fire Thursday afternoon at the base of Rabbit Ears Pass and stopped all traffic for several hours will face no charges, Colorado State Patrol troopers said.
The driver, 28-year-old Marcus Martin, of Austin, Texas, was driving west on U.S. Highway 40 when his brakes overheated. Martin pulled the semi to the side of the road and when he opened the engine compartment, the engine broke out in flames, Colorado State Patrol Trooper Tonja Cowan said.
Martin was the only occupant of the semi, and no injuries were reported.
Martin was hauling 1,515 cases of bottles and cans of Heineken, Heineken Light, and Amstel Light destined for B&K Distributing, according to Kevin Kaminski, one of the owners of B&K.
The fire spread from the engine compartment into the cab of the semi, completely engulfing it in flames, before moving to the trailer, where several cases of alcohol caught fire, fueling the flames to reach higher.
Cowan said that even after the flames were extinguished, responders had to wait for a hazardous materials team to arrive to deal with diesel fuel. Hazmat teams are required to respond any time more than 50 gallons of hazardous material is at a scene. The semi had more than 75 gallons in one of its front fuel tanks, and the fire melted the top off the tank, Cowan said.
Cowan said the officers on scene weighed the option of citing Martin for the incident but declined because there was no crash and Martin was able to stop the rig before flames erupted.
Jeff Barrett, a trucker who was one of the first on the scene and helped block traffic with his rig, said brake fires can occur when drivers descend mountain passes without shifting to the appropriate gear. It is not clear if Martin has experience in mountain driving. Cowan said Martin told her that he descended in third gear while tapping the brakes.
U.S. 40 was reopened by mid-afternoon. Crews were able to remove the truck Thursday night.