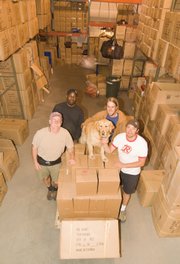 Steamboat Springs — Two Steamboat Springs companies received a new state award, and Noreen Moore says that's a great sign for the business community.
The Edward Lowe Foundation put Big Agnes and Boa Technology on a list of 50 Colorado Companies to Watch. Moore, the business resource director for the Routt County Economic Development Cooperative, nominated seven Steamboat companies for the award. Five were finalists.
Moore nominated ACZ Laboratories, Big Agnes, Boa, Landmark Consulting, Little Moon Essentials, Moots Cycles and Steamboat Restaurant Group. All but Landmark and Little Moon were finalists, she said.
The honors are rare good news in a down economy, Moore said. "These guys are on that upward slide, and that bodes well for the whole place," she said.
The awards program recognizes second-stage companies that are developing new industry across the state, according to a news release from the program.
The companies honored usually are growth-focused, are privately held, have headquarters in Colorado, employ six to 99 people full time and have $750,000 to $50 million in annual sales, according to the release. Moore praised the entrepreneurs who build such companies.
"It's such a hidden asset, and we would be well-served to pay attention to it," she said.
Big Agnes co-owner Bill Gamber credited his employees for their hard work and said he was pleased to earn the Company to Watch honor.
"It's a new award, but you know, they had a pretty tight sort of qualifications, so we were feeling confident because we're on a really good roll," Gamber said.
This is the award's first year in Colorado. The program will honor each winner with a "this week's company to watch" feature. The winners also will be recognized at a June 25 event in Denver.
Steamboat has its share of noteworthy companies, Gamber said.
"There's a lot of good, fun, young, energetic companies," he said. "The more that sprout up, the more sprout up : because there's good support. We just get great support locally. You just always hear people went somewhere and they saw one of our products."
Gamber and Boa founder Gary Hammerslag were office neighbors about 15 years ago, Gamber said.
"He's super sharp and really, really unassuming and one of the guys I love bouncing things off of, as well," Gamber said. Hammerslag couldn't be reached for comment Wednesday.
Moore said she hopes the awards help show the value of those businesses to Steamboat.
"This is our future, how people generate wealth for the community, and diversity - not only economically, but socially," Moore said. She encouraged businesses to apply for the Colorado Companies to Watch honor next year.
"For now, what a great start," Moore said.